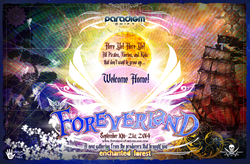 "By activating our imaginations & exploring peace through artistic expression, we co-create the world we wish to live in Forever!" - Android Jones
San Francisco, CA (PRWEB) September 16, 2014
Running from September 19-21, FOREVERLAND is a lakeside forest camping festival where music, dancing, art, creativity, meditation, yoga and costumes are encouraged. The event is created by Enchanted Forest in collaboration with Pulse SF, and features notable theme camps such as Fractal Planet, Nexus, Sacred Spaces, Hookahdome and Emergent Evolution.
The festival includes a substantial line-up with music by Phutureprimitive, Dimond Saints, Antennae, Dirtwire, The Human Experience, CloZee, Pumpkin, Plantrae, and many more. It will also feature Visionary art by Android Jones, who will be curating the Fractal Planet Art Gallery and sharing art as an integral piece of the Fractal Planet offering. "By activating our imaginations & exploring peace through artistic expression, we co-create the world we wish to live in Forever!" says Android Jones. Android Jones's work is known for sparking the imagination and collective creativity of the festival community. The event will also include yoga, meditation, sustainability workshops, kush lounge and massage parlor and a Parents & Family Support Network.
Sacred Spaces camp is partnering with Keyframe-Cinema to present a film screening of "Aya: Awakenings". Adapted from the cult book 'Aya: a Shamanic Odyssey' by Rak Razam, "Aya Awakenings" is a narrative documentary into the world and visions of ayahuasca shamanism. The Keyframe-Cinema film screening platform is an online service that allows filmmakers to share their work with fans, film buffs, and festivals. The platform is designed to facilitate the community film screening process, and also automates the licensing and delivery of media. The Transformational films in the Keyframe-Cinema catalog simplify the creation of tailored screening events or film festivals.
To learn more about the event and purchase tickets, go to http://experienceforeverland.com/.
About Foreverland:
FOREVERLAND is a three-day Transformational festival of camping, workshops, community, and music located in Northern California. Foreverland has been breathed into life by a mega-collaboration of production companies including Enchanted Forest, Pulse SF, Hookahdome, Sacred Spaces, Fractal Nation, and Emergent Evolution.
About Keyframe-Entertainment:
Keyframe-Entertainment is a media network that creates global positive change by inspiring, informing, and entertaining through Transformational films, Visionary Art, electronic music and festival culture. Keyframe produces, finances, and distributes cutting edge projects in order to generate growth for our partners and strengthen community-building worldwide.