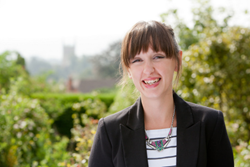 I've been so impressed with her professionalism, organisation and positive attitude.
London, UK (PRWEB UK) 30 September 2013
Wendy Marston Events is pleased to announce the promotion of Kerry Villers (nee Gardiner) to Assistant Event Manager.
Kerry joined Wendy Marston Events following 10 years working in administration and relationship management in financial services, sales and events. In her first year at Wendy Marston Events, she has exceeded the expectations of her role, quickly picking up the ins and outs of event management, and actively seeking new challenges. As well as assisting on the organisation of all of the events in the last year, Kerry has been taking a leading role in developing the social media presence of Wendy Marston Events, especially on Twitter. She is now looking forward to taking the principal role on the planning and running of events in the coming year.
Wendy Marston Events is a specialist event planner, focusing on planning the quintessential English destination wedding, particularly in the South East, London and Home Counties, and the West of England, including the Cotswolds, for British expatriates and foreign nationals, and in developing and running top class award programmes and associated events for professional industries.
"Kerry has done so well and I've been so impressed with her professionalism, organisation and positive attitude. I am so pleased to be able to recognise her commitment to the business and to our clients by offering her this opportunity to get even more involved, and I look forward to seeing how she will continue to develop her skills and knowledge, both in running events and in the world of social media promotion," says Wendy Marston, founder and director.
For further information on how Wendy Marston Events can assist with your event planning needs, contact Wendy at Wendy Marston.
Events at http://www.wendymarstonevents.com or http://www.getmarriedinengland.com.
About Wendy Marston Events:
Wendy has been running events for business since 2001 and weddings and private events since 2008. Wendy Marston Events specialises in running industry-leading award programmes, receptions, dinners and meetings, from small roundtable breakfast meetings to gala award dinners, and English destination weddings for British expatriates and foreign nationals.
For further information contact Wendy Marston
Email: wendy(at)wendymarstonevents(dot)com
Web: http://www.wendymarstonevents.com
http://www.getmarriedinengland.com
Phone: +44 (0)7971 203725