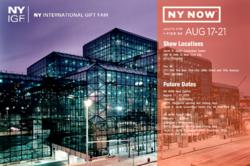 The Website for the Event proclaims "NYIGF becomes "NY NOW, the Market for Home & Lifestyle!" The former New York Gift Fair is now so large that this event in New York takes place at 2 separate venues
New York, NY (PRWEB) July 07, 2013
More than 35,000 retail buyers will converge on New York for NY NOW, an event in New York that showcases the wares of 2800 exhibitors across 400 categories. New York Hotels like The Milford NYC have special offers such as the My New York Story special, to welcome both attendees and exhibitors. Those who take advantage of the My New York Story offer will receive a tote bag filled with items such as a keychain, pen and playing cards that will be a reminder of time spent in New York. View details or Check rates.
NY NOW
When: August 17 through August 21, 2013
Where: Jacob K. Javits Convention Center | 655 West 34th Street New York, NY 10001
and
Pier 94 | 711 12th Avenue New York, NY 10019
Call: 800-272-SHOW
The Website for the Event proclaims "NYIGF becomes "NY NOW, the Market for Home & Lifestyle!" The former New York Gift Fair is now so large that this event in New York takes place at 2 separate venues. The first, the Jacob K. Javits Center, holds exhibits for the home, lifestyle and handmade groupings while brand new products across all categories are shown at Pier 94.
At this trade-only event in New York, buyers can see the latest in giftware, home furniture, children's products, textiles and much more. Attendees will also enjoy nearly 2 dozen seminars on topics such as Leveraging Sustainability: Building Your Business While Building a Better World, Web Site Best Practices – Learn From Your Peers, Importing 101, Social Media Marketing Plans That Get Results and many others.
Networking events that allow attendees to see some of the New York attractions, such as a guided walking tour, are also available.
About The Milford NYC – A New York Hotel:
The Milford NYC…Middle of it all. 24 Theaters, 43 Restaurants, 102 Shops…1 step from the lobby.
The Milford NYC is located in the heart of New York City, surrounded by Times Square, the Broadway Theater District, New York Restaurants and New York Shopping, the subway and New York City Tours.
The Milford NYC is undergoing an extensive $140 million renovation to include each of the 1,300 Guest Rooms and Guest Suites, Lobby Bar, Fitness Center, grand Lobby and all common areas of this Times Square Hotel. As of now all of its guest rooms are complete, the grand new Lobby is now open and the lobby bar opens July 1, 2013.
This New York Hotel is perfectly located near all the New York Activities and New York Attractions that brings visitors to New York from all the world over. Come see the best of New York and stay at The Milford NYC – A Times Square Hotel.
View The Milford NYC's Special Offers.
Check Rates, Make Reservations or call toll free: 888-352-3650.