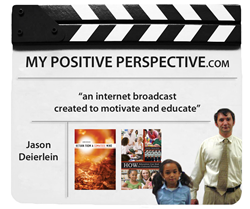 My Positive Perspective features individuals and groups who share the same mission to improve the Charleston community
Charleston, SC (PRWEB) March 24, 2015
On March 23, 2015, My Positive Perspective host Jason Deierlein was joined by musician Matthew Conley for an episode. The episode was conducted because Conley was one of the musicians who performed at the recent Hair of the Dog event. As the episode began, Deierlein asks Conley, "Where are you from and how did you get to be a musician?" Conley answers, "Originally, I'm from West Virginia. I started getting into music production in the early 2000s and released a five track album in 2013 entitled "Help Yourself." Conley continues, "Since then I have been able to do some traveling, I spent some time in Dubai and India producing and recording sounds.
Deierlein then says to Conley, "OK so you have done some shows abroad?" Conley replies, "Yes, I have done shows with several other artists. I even opened for this artist named Sickflip in Mumbai, India." Deierlein then asks Conley, "How did you meet the event organizer and how are you both connected?" Conley replies, "It really was just through mutual friends and together thinking of ways to help use each others' talents the best way."
Deierlein then asks Conley, "What type of music do you enjoy playing and who are some musicians who have inspired you?" Conley answers, "Musicians that have their own sound design, so I tend to gravitate towards cinematic and bass type of music." Deierlein then asks, "Do you like songs that tell a story?" Conley replies, "Yes, that is what I go for when I'm writing and performing my music.
My Positive Perspective is a media outlet believing that improvement in our community will be best achieved by focusing on the good things happening in our world today. Having survived a near fatal car accident as a youth, a shift of perception forced one to have a mentality of always concentrating on the brighter sides of things. This was true, and in my book, Return From a Comatose Mind, this belief was put to the test. Appreciation for life was the biggest thing one took away from my brush with death, and it is because of that gives me such a huge desire to be helpful to many. My Positive Perspective is a way of overcoming challenges through positive thinking.