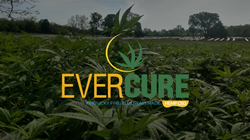 "We're proud to grow in the Bluegrass State, and our mission is to re-establish hemp as a Kentucky cash crop," says Todd Harrett, co-owner of Evercure Farms. "Ideally, we'd like to make hemp as iconic as bourbon distilling and horse-racing."
SIMPSONVILLE, Ky. (PRWEB) June 05, 2019
Evercure Farms, a purveyor of CBD oil crafted using organic methods and standards, recently launched an ecommerce website. The new website allows consumers to buy Evercure Farm's full spectrum CBD oil from the comfort of their homes. The website is equipped with advanced features like a robust shopping cart and includes educational resources on the medicinal benefits of hemp.
Located in Shelby County, Kentucky, Evercure Farms creates its products using an organic, cold ethanol extraction process. The result is a superior extract with a smell and taste that matches the fruitiness of the plant in the field. Evercure Farm's signature product, Evercure CBD Oil, is a hemp-derived oil bottled with a full spectrum of healthy ingredients. The health benefits of Evercure CBD Oil include relief from pain & inflammation, anxiety, antipsychotic effects and much more.
"We're proud to grow in the Bluegrass State, and our mission is to re-establish hemp as a Kentucky cash crop," says Todd Harrett, co-owner of Evercure Farms. "Ideally, we'd like to make hemp as iconic as bourbon distilling and horse-racing."
Prior to the website's launch, Evercure CBD Oil could only be purchased in natural health stores like Rainbow Blossom. Evercure Farms contracted Hatfield Media, a digital marketing agency based in Louisville, Kentucky, to transform their original website from a simple, informational source to a fully-functional online shop.
"Our new website has been redesigned to boost SEO capabilities, generate more traffic, and make our educational resources more accessible," says Harrett.
The website's e-commerce capabilities allow for user-friendly shopping and a simplified process for adding new products. Drone footage and video clips were incorporated into the site's design to make the web-experience more interactive. The website's FAQ page addresses common misconceptions surrounding CBD oil products and provides educational resources for the curious and skeptical. Evercure CBD Oil can still be found in local health & wellness retailers, which are listed under the website's resources tab.
Evercure Farms was founded by hemp farmers and friends Lyle Hysinger, Lee Hysinger, Mike Bunch and Todd Harrett. The farm is committed to delivering unmatched quality products and promote natural wellness. The oil contains no artificial flavors or additives. Whereas other oils are bottled with tinted glass, Evercure CBD Oil is packaged in a clear, square bottle. The transparent packaging showcases the oil's lovely light golden color, which is an identifying marker of high-grade CBD hemp oil. Each bottle of Evercure CBD Oil extract comes with a certified copy of the cannabidiol and terpene profile.
For more information on Evercure CBD Oil, visit evercurecbd.com.
Media Contact:
Ashley Shadburne, Director of Marketing
hatfieldmedia.com
ashley(at)hatfieldmedia(dot)com