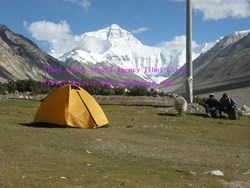 Everest Base Camp Adventure travel is not always easy! Sometimes it is closed, and sometimes it is not allowed. Follow local travel agency in Lhasa for more details!
Lhasa, Tibet (PRWEB) October 22, 2013
As 2013 comes to a close travelers are planning their 2014 Everest Base Camp Tibet Tour. While making the trip is easier than ever before, adequate planning and preparation is key to turning this Tibet travel dream into a trip of a lifetime. Lhasa based Tibet Travel Agency - Tibet Ctrip Travel Service-TCTS (http://www.tibetctrip.com) has been taking travelers to Everest for over 10 years and shares 5 easy steps to plan a trip.
Step 1: Decide when to visit and what kind of tour best suits the travel group's needs and interests. The best time to visit is April through early June; outside of this visitors are likely to find Everest shrouded in mist. Travelers can arrive overland from Kathmandu or Lhasa and enjoy time sightseeing along the way.
Step 2: Choose a reliable travel agency. Foreign visitors in Tibet are required to be part of an organized tour and obtain Tibet travel permits; a properly registered travel agency will obtain necessary permits. While a simple Google search yields a seemingly endless list of travel agencies not all are able to offer high-quality Tibet tours at a reasonable price.
Step 3: Apply for a Chinese visa; these will be required to enter China. In order to apply for Tibet permits, the group's travel agency will require copies of Chinese visas as well as passport information pages for all group members.
Step 4: Once the tour is booked and visas applied for its time to start thinking about how to get to Tibet. The quickest and easiest way is to arrive by air, daily flights serve Lhasa from a variety of Chinese cities and flights come from Kathmandu 2-3 times per week. Another popular option is the Qinghai-Tibet Railway. If coming overland from Kathmandu, ground transportation can be included in the tour package. Don't hesitate to ask the group's travel agency for assistance.
Step 5: Pack and head for the airport. Be prepared for temperatures that can dip below freezing at night. Be sure to bring a hat, sunscreen, and skin care products: the air is dry and the sun can be intense. Detailed packing tips can be found at http://www.tibetctrip.com.
Planning a 6 to 9 days Tibet Everest base camp tour may seem overwhelming at first, following these 5 easy steps helps give travelers peace of mind in knowing that they are adequately prepared for their adventure. With Tibet's rapidly developing tourist infrastructure making the trip is much easier and more comfortable than it has been in the past. Next year's Tibet travel season will be here soon, now is the time to start planning.
Devin Moore, author of this release, is a travel writer and independent economic analyst based in Denver, Colorado USA. In partnership with local Tibet travel agency TCTS (tibetctrip.com), Devin publishes Tibet travel related information in order to spread awareness of Tibet and its people.