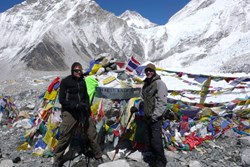 These efforts will help bring village residents closer to their goal of providing scholarships for village youth to attend school a day's walk away, and to fund the construction of a medical clinic near the village. - Glen Young
Sonora, CA (PRWEB) November 26, 2013
Beginning in March 2015, YExplore will operate international tours in Nepal with an exciting 3 week trek to Mt. Everest Base Camp. The Everest Base Camp Trek is one of the most desired hiking experiences on Earth. Not only is the route historic, since this was the approach Norgay and Hillary used for their successful ascent of Everest in 1953, but it is also visually stunning and culturally rich. Everest Region, or Solukhumbu as it is called in Nepal, is the home of Sherpas. Karma Geljen Sherpa, an 8,000 meter peak guide for expeditions such as Mt. Everest, has agreed to become the local trip leader.
Glen Young, a certified AMGA guide who leads international expeditions on several continents, has agreed to lead YExplore's excursions into the Himalaya. Glen met Karma Geljen Sherpa in Kathmandu, Nepal in 2008. Over the next five years, Glen returned to Nepal five times, and after climbing Ama Dablam in Everest Region, Karma took Glen to his village of Sibuje to meet his family. Glen recalls "Unlike many other villages in Everest Region, Sibuje did not have infrastructure for tourism. As a result, there was little money available for electricity or plumbing and no services like education or a medical clinic. Karma expressed his concerns for the welfare of villagers to me. After considering many possibilities, we decided to create an environmentally sustainable and socially responsible tourism company that would employ the people of Sibuje." In the winter of 2013, Karma registered his new company, Higher Path Treks and Expeditions. Two months later, Glen arrived with the first clients and they began their operations.
Glen and Karma have now partnered with YExplore Global Adventures who will begin using Higher Path Treks to guide the Everest Base Camp Trek beginning in March of 2015. Mr. Young continues "These efforts will help bring village residents closer to their goal of providing scholarships for village youth to attend school a day's walk away, and to fund the construction of a medical clinic near the village." The ongoing support of Higher Path Treks and the village of Sibuje has been called "The Karma Project". He concludes "Every adventure that we provide benefits The Karma Project, and the community of Sibuje."
YExplore has launched its very first Indiegogo crowdfunding campaign as a source to raise the funds necessary to explore this vision. Crowdfunding is the practice of funding a project or venture by raising many small amounts of money from a large number of people, typically via the Internet. Indiegogo is an international crowdfunding site where anyone can raise money for film, music, art, charity, small businesses, gaming, theater, and more. After careful consideration, Indiegogo was chosen as the home for the campaign because of the site's popularity and flexible funding options. YExplore CEO John P. DeGrazio states "Our goal is to offer exciting programs worldwide and extend our global reach. We hope to meet the goals of the campaign with crowd sourced funding so we can introduce our sustainability model to overseas partners."
About YExplore Global Adventures
Founded in 2006, YExplore Global Adventures is a CaliforniaTour Company offering custom guided experiences in Yosemite National Park and Nepal. Their mission is to encourage travelers of all ages to get outside and make a connection with nature and wilderness through educational outdoor adventures that inspire personal growth while developing a deeper understanding of conservation and stewardship. YExplore is a socially responsible company that implements Leave No Trace principles on every outing to minimize their impact in nature and ensure that the ecology of the park will not be compromised. John P. DeGrazio is the company's founder and continues to lead Yosemite trips with visitors of all ages and nationalities.