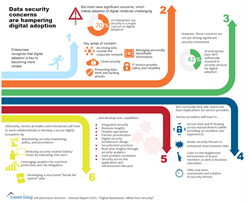 Though enterprises have aggressively expanded the mandate of cybersecurity in light of digital adoption, they are still not giving it the attention that is due.
Dallas, Texas (PRWEB) July 22, 2015
Over 70 percent of enterprises cite security as a major concern when adopting digital technologies such as social media, mobility, cloud, and analytics, and yet over 40 percent of those enterprises have not sufficiently invested in security services for digital adoption.
Enterprises lack full confidence in IT service providers' ability to assist them in the difficult journey of digital adoption without causing security compromises.
These results and other findings are explored in a recently published Everest Group report: Infrastructure Services – Annual Report 2015: "Digital Businesses: Mind Your Security.
"Enterprises realize that digital adoption is a vital business strategy for being agile and nimble in the marketplace," said Yugal Joshi, practice director at Everest Group. "Though enterprises have aggressively expanded the mandate of cybersecurity in light of digital adoption, they are still not giving it the attention that is due. We believe this creates significant opportunities for service providers to demonstrate differentiated capabilities across digital and security services."
Other key findings:

The infrastructure services market grew by approximately 0.6 percent in 2014, lagging behind the overall IT services market growth of 3.4 percent.
Stand-alone infrastructure services deals accounted for 33 percent of the new signings in the market. Bundling of IT towers with Business Process Services remains muted with only 4 percent of deals witnessing such a trend.
Every one in two IS deals included consulting services, and four in five IS deals had an element of output-based pricing.
North America led the overall global activity, contributing to 47 percent of the IS engagements; European clients signed deals of larger value (approximately 17 percent higher) than global peers; and the Asia Pacific region witnessed significant demand contraction, with deal sizes 8 percent lower than the global average.
***Download Complimentary 12-page Preview Report Here*** (Registration required.) This preview summarizes the report methodology, contents and key findings and offers additional resources for further study.
The full report analyzes the infrastructure services market, focusing on:

Major trends in IS adoption
Key factors shaping the market, including buyer expectations
The outlook for 2016
Market share of 30 leading IT service providers, including large multi-national providers with headquarters in Europe, North America, India, Asia Pacific, and other regions.
*** Download Publication-Quality Infographic ***
"Data Security Concerns Are Hampering Digital Adoption," a high-resolution graphic illustrating key takeaways from this report, can be included in news coverage, with attribution to Everest Group.
About Everest Group
Everest Group is a consulting and research firm focused on strategic IT, business services, and sourcing. We are trusted advisors to senior executives of leading enterprises, providers, and investors. Our firm helps clients improve operational and financial performance through a hands-on process that supports them in making well-informed decisions that deliver high-impact results and achieve sustained value. Our insight and guidance empowers clients to improve organizational efficiency, effectiveness, agility and responsiveness. What sets Everest Group apart is the integration of deep sourcing knowledge, problem-solving skills and original research. Details and in-depth content are available at research.everestgrp.com.