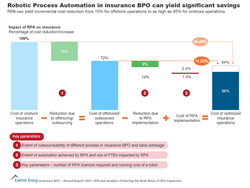 Adoption of RPA in insurance BPO is gaining speed because the cost savings are significant.
Dallas, Texas (PRWEB) November 05, 2015
The global insurance BPO market has grown at a healthy compound annual growth rate (CAGR) of 12 percent over the last two years to reach US$2.9 billion. Over the next two years, 11 to 13 percent growth is projected, with robotic process automation (RPA) and analytics emerging as key drivers of expansion, particularly as competition among service providers intensifies in a maturing market.
With the commoditization of labor arbitrage, automation and analytics have emerged as key value levers. RPA is highly valued by insurance BPO service providers as a method to reduce FTE in labor-intensive processes such as claim processing. Similarly, with the inclusion of judgment-intensive processes in insurance BPO contracts on the rise, expertise in analytics is becoming a key competitive differentiator.
"Inclusion of analytics in new insurance BPO contracts is up over 80 percent in recent years and was included in more than 50 percent of the contracts signed in both 2013 and 2014," said Rajesh Ranjan, partner at Everest Group. "Likewise, adoption of RPA in insurance BPO is gaining speed because the cost savings are significant. RPA can yield incremental cost reduction of anywhere from 15 percent for offshore operations to as high as 45 percent for onshore operations."
These results and other findings are explored in a recently published Everest Group report: Insurance BPO – Annual Report 2015: RPA and Analytics Powering the Next Wave of BPO Expansion.
This report provides comprehensive coverage of the global insurance BPO market, including adoption trends across geographies and insurance segments, key solution characteristics, emerging trends, and service provider landscape.
Other key findings in the report:

While the life and pension (L&P) segment accounts for the larger share of the market (more than 50 percent), the property and casualty (P&C) segment is growing at a faster pace, registering a CAGR of 22 percent, which is more than three times that of L&P at 7 percent.
Contract renewals have more than tripled in the last three years. Over US$1billion in annualized spend will be up for renewal over the next three years.
United Kingdom continues to dominate the L&P insurance BPO, while North America dominates the P&C market and continues to lead the insurance BPO adoption with over 65 percent of the total contracts.
Under-penetrated markets, such as Asia Pacific and Continental Europe, are expected to witness increased adoption and catalyze the growth in the market in the mid- to long-term future.
The L&P and P&C segments have contrasting characteristics in terms of adoption by buyer segments. While the large buyers continue to drive adoption in L&P insurance BPO, small-sized buyers drove it in the P&C segment in 2014. In L&P, the average deal size for large buyers is more than double the figure for small-sized buyers, whereas in P&C, the two are almost equal.
The reinsurance market has witnessed higher BPO adoption in the last two years in both North America and United Kingdom.
***Download Complimentary 10-page Preview Report Here*** (Registration required.) This preview summarizes the report methodology, contents and key findings and offers additional resources for further study.
***Download Publication-Quality Graphics***
High-resolution graphics illustrating key takeaways from this report can be included in news coverage, with attribution to Everest Group. Graphics include:

Insurance BPO adoption shifts
Adoption of analytics in insurance BPO is up over 80 percent in recent years
Robotic process automation (RPA) is gaining speed in insurance BPO
Robotic process automation in insurance BPO can yield significant savings
L&P insurance BPO process adoption
About Everest Group
Everest Group is a consulting and research firm focused on strategic IT, business services, and sourcing. We are trusted advisors to senior executives of leading enterprises, providers, and investors. Our firm helps clients improve operational and financial performance through a hands-on process that supports them in making well-informed decisions that deliver high-impact results and achieve sustained value. Our insight and guidance empowers clients to improve organizational efficiency, effectiveness, agility and responsiveness. What sets Everest Group apart is the integration of deep sourcing knowledge, problem-solving skills and original research. Details and in-depth content are available at research.everestgrp.com.