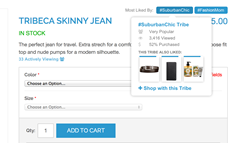 What Waze has done for navigation – providing an engaging solution for getting drivers where they want to go faster by leveraging the wisdom of the crowd – Tribes will do for online shopping.
Seattle, WA (PRWEB) September 30, 2014
Evergage today announced Evergage Tribes™, a breakthrough product that provides socially augmented shopping capabilities for ecommerce sites. The product extends the core real-time web personalization feature set of the Evergage platform with the unique approach of allowing visitors to browse products based on what other like-minded shoppers are researching, reviewing and buying. Consumers will value this ability to find relevant products faster and validate their purchase intentions. And with the differentiated experience Evergage Tribes will provide for their shoppers, online retailers will benefit from increased new and returning site traffic, increased visitor engagement and conversions, and a wealth of insights gleaned from the shopping data. See an Evergage Tribes demonstration in booth #1923 at Shop.org in Seattle from Sept. 29 - Oct. 1.
"Evergage Tribes is like 'Waze for your website,'" said Karl Wirth, co-founder and CEO of Evergage. "What Waze has done for navigation – providing an engaging solution for getting drivers where they want to go faster by leveraging the wisdom of the crowd – Tribes will do for online shopping. Retailers don't need to cede community-sharing power to social networks anymore. Instead, they can empower shoppers to quickly acquire the input and perspectives of others like them through socially augmented shopping, the next frontier of automated web personalization."
Using Evergage Tribes on ecommerce sites, shoppers can browse by persona, interests or life stages via "tribes," such as #CookingMom, #NewHomeOwner or #ITGuy, and be instantly referred to products best suited to them based on the behaviors and actions of shoppers with common interests. This interactive and engaging way to shop online enables the consumer to receive unprecedented personalized shopping assistance from an informal peer network right on the site – without having to provide any personal data or profile information or leave the site for Facebook, Pinterest or Twitter, to get the feedback they crave.
"Evergage Tribes is a win-win," said Ujjwal Dhoot, CMO, FSAStore.com, a one-stop shop for Flexible Spending Account products], provider of the only one-stop shop stocked exclusively with Flexible-Spending-Account-eligible products. "It will drive consumers to tap their tribes for purchasing advice and access highly personalized product suggestions. It will enable us to earn their trust, maximize conversions and learn about our customers and merchandise based on which tribes emerge and trend. We can also use the social sharing data to add another set of valuable inputs in our goal to create a 360 degree customer profile. Everyone benefits."
"Tribes has the potential to drive greater engagement and improve our conversion rate because our visitors will be able to follow shopping trends and get tailored product recommendations from customers with similar needs and interests and who are in similar phases of the buying cycle," said Frank Malsbenden, vice president and general manager of Vision Retailing, Inc. "Over time we will benefit because we will create a stronger bond with our customers and improve our merchandising mix based on which tribes emerge and trend. Plus, we can watch for and act on social sharing behavior that signals the decision to purchase."
Evergage Tribes utilizes sophisticated algorithms for determining product affinity by tribe based on viewing, purchasing, rating and reviewing behavior of those who shop using tribe hashtags.
This enables online retailers to help shoppers find and select the products that are right for them, by showing:

which tribes most like a product;
what a tribe thinks of the product;
which products were purchased or reviewed by other tribe members;
what other products were also liked by tribe members; and
filtered ratings and reviews by tribe.
This information is made available via overlays on category pages, product pages or search results pages. In addition, tribe information is maintained and can be made available for viewing in a branded information bar at the bottom of each page.
About Evergage
Evergage's cloud-based platform delivers real-time web personalization to more than 200 million web visitors, improving demand generation, revenue growth and customer success for over 120 organizations, including Gardener's Supply Company, Millward Brown Digital, Palms Casino Resort, Publishers Clearing House, Rue La La and Wayfair. Evergage empowers marketers to increase engagement and conversions of website visitors and users through personalized content and messages based on deep behavioral analytics. Founded in 2010 as Apptegic, Evergage is a 2014 MITX What's Next Award winner, a 2014 Marketing ARC award winner and a Red Herring Top 200 North American company. Evergage has offices in Boston, San Diego and Atlanta. For more information, visit http://evergage.com or contact the company at sales(at)evergage(dot)com or 1-888-310-0589.
# # #