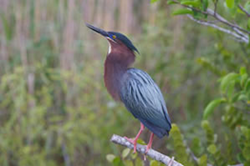 Everyone should visit the larger Everglades region at least once in their lives. It is genuinely one of the most exciting environments in the world.
Fort Lauderdale, FL (PRWEB) December 31, 2014
Naturalist Journeys, a top birding and nature tour company, announces the Southern Florida & Everglades Birding and Nature Tour from April 18-25, 2015. Travelers will discover some of Florida's greatest natural wonders, from ancient Bald Cypress forests to the legendary Everglades National Park. Expert guides detail Caribbean influences on this sub-tropical region.
This tour has been specially designed to highlight birds and their habitat needs within the Everglades ecosystem, which hosts a diverse array of habitats. In addition to Everglades National Park, travelers explore Audubon's Corkscrew Sanctuary and Ding Darling National Wildlife Refuge near Fort Myers, Marco Island's pristine beaches, and prairies at the Babcock-Webb Wildlife Area. The tour is timed for the peak of bird migration, offering new opportunities this spring to catalog a host of species that cross the Gulf, reaching land somewhere from the Dry Tortugas northward.
The tour is educational and focused on birding and nature. The conservation needs of migrant birds will be examined as travelers discover Florida Bay of the Everglades by boat, learning how the region's breeding Wood Storks, Tri-colored and Little Blue Herons, Roseate Spoonbills, Snail Kites, and other species give clues to monitor restoration efforts in the Everglades. Guides help participants understand how spring bird migration routes reveal important ecological corridors across the Caribbean Basin and beyond. Park naturalists help participants locate rare American Crocodiles that benefit from extensive mangroves that parks and wildlife refuges protect. A tram tour through the Everglades' famous "Sea of Grass" lets participants learn more about American Alligators, a species in which numbers are on the rise.
Beyond the Everglades, travelers will observe the largest remaining colony of endangered Wood Storks at Corkscrew Sanctuary. In pine woodlands near Venice, birders seek out the endemic Florida Scrub Jay, one of only 15 endemic birds in the United States.
"Everyone should visit the larger Everglades region at least once in their lives. It is genuinely one of the most exciting environments in the world. Right before you is a key opportunity to explore some of our continent's rarest habitats and see amazing birds and mammals," says Naturalist Journeys CEO Peg Abbott.
Abbott finds particular fascination in this year's tour extension to the Florida Keys from April 25-29, 2015. She says, "The Florida Keys are one of the few places in the United States to study tropical nature on U.S soil. One can walk trails lined with plants of the Caribbean such as Lignum Vitae, the national tree of Jamaica. Our participants find tropical birds that fly north to breed, such as the Black-whiskered Vireo and Gray Kingbird, species that extend their range just into South Florida because of this tropical nature."
Abbott says that participants fully understand the Caribbean connection after an all-day boat excursion to Fort Jefferson and the Dry Tortugas, where seabirds and migrants are abundant and coral reefs occur.
More about Naturalist Journeys' April 18-25 Florida Everglades Birding and Nature Tour: The tour begins and ends at the Fort Lauderdale Airport. The optional Florida Tropics: The Keys extension runs from April 25-29. The tour is limited to 12 participants. The guide for this tour is Greg Smith, a senior guide for Naturalist Journeys, who has birded and searched out nature's wonders on all seven continents.
About Naturalist Journeys
Naturalist Journeys is a nature-travel company based in Portal, Arizona. They strive to support eco-tourism throughout the U.S. and beyond, through small-group guided tours, often in co-operation with local non-profit groups and communities.