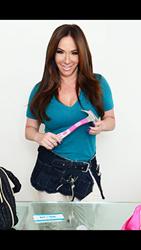 New York City, NY (PRWEB) March 08, 2017
Barbara Kavovit, Founder of Evergreen Construction, continues to be a force in the New York City General Contracting and Construction Management industry. As the founder of Anchor Construction in 1995, she became a recognized CEO of one of the City's first female-owned General Contracting companies. Kavovit continues to move forward with the energy, courage and determination resulting in the completion of new corporate and retail projects, the launch of a new website http://www.EvergreenConstructionCorp.com and yet another upcoming book.
"We recently completed a highly-detailed corporate project in midtown Manhattan for a leading "think tank" to major corporations," states Barbara Kavovit, CEO of Evergreen Construction. She continues, "We are true partners with each client, and work tirelessly from the pre-construction planning phase, all the way through completion to closeout phase. It is incredibly rewarding when we team up with clients, Owners Reps and Architects that have a strong passion, and requirement, for such quality and detail."
Kavovit also garnered incredible success and recognition with the launch of her Barbara K brand, and line of DIYVA tools for women. She is proudly known as the "Girl in a Hard Hat," and likes to tell the story of a woman enduring a fierce battle to gain equal opportunity in the world of New York City construction. Located in midtown Manhattan, Evergreen will focus its projects mostly in the tri-state area, and is certified as a WBE Company with the State and City of New York.
One of Evergreen's recently completed projects is the renovation of the corporate Headquarters of Bionic Solution at 4 Columbus Circle in NYC. Along with the Owners Rep, Architect, and Construction team, a highly detailed, cutting-edge office was created.
"I was fortunate to have been awarded this contract, and have a team with me at Evergreen that understands hard work, coupled with proper planning and brilliant technical precision. We take a diligent and transparent approach. This makes a major difference in each project, as well as client relationships," states Kavovit. She continues, "We also recently completed an overhaul of our website http://www.EvergreenConstructionCorp.com so we can now offer a simple, yet comprehensive story of who Evergreen Construction is, and who I am, as well as the journey and accomplishments that make construction management in New York City such a passion in my life."
About Barbara Kavovit
Barbara Kavovit is the CEO of New York City-based General Contractor and Construction Management Company Evergreen Construction. In 1995 she was recognized as a pioneer as owner of one of the first female owned construction management companies in NYC, Anchor Construction. In 2001 Barbara was chosen by Crain's as one of "100 Most Influential Women in Business." In 2001 and 2002 she was a finalist in the Ernst Young Entrepreneur of the Year Award.
Barbara is a former NY Post columnist, and author of two books, "Room for Improvement: Change Your Home! Enhance Your Life! With: Tools, Tips and Inspiration from Barbara K!" (Rodale 2005) and "Invest In Your Nest: Add Style, Comfort, and Value to Your Home" (Rodale 2006) (Amazon). Her name has also been associated with countless books about "entrepreneurs."
Barbara's expertise is fully recognized. She has appeared numerous times on Good Morning America, and The Today Show. Barbara has been featured in publications around the country, and internationally including "O" The Oprah Magazine, The New York Times, People Magazine, The Wall Street Journal, USA Today, Parade and Forbes and CNBC's campaign "I Am American Business.
Barbara Kavovit may be contacted at 212-575-8777, or online at http://www.EvergreenConstructionCorp.com