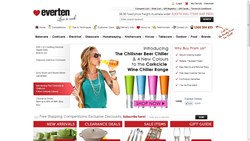 With us, you can find the products of world renowned brands like Riedel, Scanpan, Le Creuset, Wusthof, Global,Cuisinart, Leifheit & Breville.
New South Wales, Australia (PRWEB) October 19, 2013
Everten has come up with clearance deals on a broad range of over-stocked superior quality kitchenware, giving an opportunity to the retailers in Australia to get top-notch items at unbeatable prices. Apart from kitchenware, the company also offers bakeware, glassware, homekeeping, electrical, tableware, and other kitchen equipment.
"We are a leading online supplier in Australia featuring over 8000 products that may make cooking better experience. With us, you can find the products of world renowned brands like Riedel, Scanpan, Le Creuset, Wusthof, Global, Cuisinart, Leifheit and Breville. We have decided to dispose off the overstock goods to let in new supply and you can turn the process to your advantage by getting excellent quality goods at really cheap prices," commented a senior executive with the company.
There are several products available at prices slashed down to 60-70% and one is not going to get the opportunity again anytime soon. Some items on the list are Mundial Mega Knife Block Set, Fridge Suction Opener, Noritake Myma-Bloom Cup & Saucer Set, Noritake True Love Mug Set, Kamati Otaru Cutlery Station, Rhubarb Chop Block, Round, Scanpan IQ Cookware, Wok, Scanpan Spectrum Santoku, Ecology Silhouette Dusk Mug, Greenpan Kyoto Frittata Twin Set and IconChef Duo Wine Buddy.
99% of the orders company takes are dispatched within two business days. The executive elaborated more on delivery, "Estimated delivery times are approximately 3-10 working days and the standard rate of delivery is $6.90. We may charge additional shipping fees on large & commercial orders. If you require express delivery, you may call for a quote on 1300 394 833."
Customers can refine the collection by price or manufacturer, and sort the results on the basis of name and price, making the purchase process a free wheel. Everten dispatches well-packaged goods from the warehouse ensuring that the items reach the customer in safe manner. Buyers will find Robert Gordon products dinnerware and ceramics, get high quality knives of known brands or get info about LED lenser torches on the website.
About the Company
Everten is an online retailer that takes pride in consistent quality standards, superior customer service and efficient delivery record. Whether the customers want to procure pizza stones, cake pans or rolling pins, they can trust the company. The site can be trusted for description of the products which helps the customers unfamiliar with the products.
Contact Information
Unit 4-5, 9-15 Gundah Rd,
Mount Ku-Ring-Gai,
NSW, 2080 AU
Phone: 1300 394 833 or +61-2-9457-7813 (8:30am to 4pm weekdays)
Website: http://www.everten.com.au/