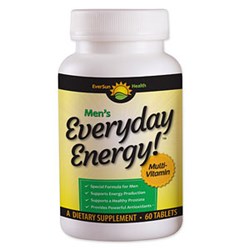 (PRWEB) January 17, 2014
With the winter season in full swing, now is the best time for men to boost their immune systems to maintain good health and fight infection during the flu season. Men's Everyday Energy Multivitamin from EverSun Health is packed full of vital nutrients that will strengthen the immune system and support overall well-being. And now through partnering with Amazon, customers can purchase these popular multivitamins through the world's largest online store.
The great advantage this multivitamin has over other brands is that wherever possible, it's formulated from premium quality, organic, GMO free, non-irradiated ingredients and carefully manufactured in the United States in a current good manufacturing practice (cGMP) facility. This ensures that consumers receive the top nutritional benefits possible in a formula that works together with their body to fight infection.
Seasonal influenza is a very serious condition that can cause widespread illness. While the exact figures are unknown and each year the severity of influenza varies, Centers for Disease Control and Prevention estimate that thousands of people die throughout the United States as a result of influenza-related complications. Although annual vaccinations are an option, they aren't fail proof—there is a limited supply, and they remain controversial in their effectiveness to prevent the flu.
Staying fit and healthy is the best way to combat influenza. Men's Everyday Energy Multivitamin is an excellent option for men who want to ensure that their body has access to everything it needs to stimulate optimal immune function. This multivitamin is full of antioxidants, amino acids, vitamins, minerals and trace elements necessary to support a healthy male body.
There are 33 different minerals and vitamins found in Men's Everyday Energy Multivitamin. This supplement fulfills the daily requirements for vitamins A, B1, B2, B3, B6, B12, C, D, E, and K, plus a whole range of other important minerals—including several ingredients specifically designed to enhance men's health. The nutrients in this supplement not only support proper immune function, they also relieve stress and enhance energy and stamina. Free from iron, this supplement ensures that the nutrients are easily absorbed and there are no negative side effects.
Testament to the superior quality of this supplement, EverSun Health offers a money-back guarantee. Anyone unsatisfied with Men's Everyday Energy Multivitamin can request a full refund within 30 days of their initial purchase. Each bottle contains enough capsules for one month when taken as directed, ensuring excellent value for the money.
For more information about this superior men's multivitamin supplement and to take advantage of free shipping and fantastic customer support, search Everyday Energy Multivitamins on Amazon or visit EverSunHealth.com.