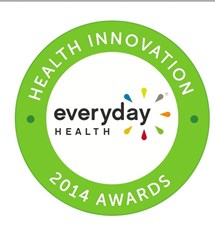 New York, NY (PRWEB) December 30, 2013
What are the consumer electronic innovations anticipated to shift the paradigm of health management in 2014? Everyday Health, a leading digital health and wellness company, along with the Digital Health Summit, today announced the finalists for the inaugural Everyday Health Awards for Innovation, honoring outstanding achievement in technology innovation aimed at improving health outcomes. Among the finalists is an app that can eliminate a need for reading glasses, a smart pill bottle that accounts and encourages compliance, devices that reinvent the "house call" allowing doctors to manage a patient's healthcare remotely, a smart shirt with micro sensors built into the fabric for ongoing monitoring, and a company using digital health technology to improve the health and wellness for five million of our nation's truck drivers.
Finalists were selected by an expert judging panel. Consumer voting is open now through January 7, 2014 at 11 p.m. EST online at Awards.DigitalHealthSummit.com where people can cast their votes for the finalists across the five categories: Patient Diagnostics & Management, Emerging Tech, Inclusive Innovation, The Healthy Consumer, and The Healthiest Company. Online voting will account for 30 percent of the total score awarded to each product.
Finalists for the Everyday Health Awards for Innovation will be on display daily in the Everyday Health exhibit in the Digital Health Summit TechZone at 2014 International CES in the Las Vegas Convention and World Trade Center (LVCC), South Hall 2, directly behind UnitedHealthcare booth #25515.
Winners will be announced at a special live award ceremony at the Digital Health Summit on January 9, 2014 at 4:30 p.m. PT (LVCC, North Hall, N250). Follow #EHAwardsCES for live results.
The 2014 Everyday Health Awards for Innovation Finalists:
Category: Patient Diagnostics & Management
AliveCor Heart Monitor
AliveCor's Heart Monitor is an FDA cleared, single-channel ECG recorder that is portable and easy to use. The Heart Monitor leverages the prescribed patient's smartphone to record, display, store and transfer their ECG through the AliveECG application. AliveCor's Heart Monitor is intended for use by licensed U.S. medical professionals and prescribed patients.
SmartWatch by Smart Monitor
SmartWatch provides a comprehensive care management solution that acts as a safety net for patients prone to convulsions, seizures and tremors. A wearable device used in conjunction with a smartphone app of patented algorithms, it recognizes patterns of repetitive shaking movements such as those caused by convulsions, tremors and seizures and alerts family members' mobile phones in seconds, enabling timely intervention. The solution provides recording of valuable episodic parameters and temporal tracking of abnormal motion activity, which was never possible in an outpatient setting previously.
Telcare Blood Glucose Monitor (BGM)
Telcare's Verizon Wireless-powered, cellular-enabled diabetes management technology platform improves diabetes self-management by capturing real-time data and providing rapid, personalized, and contextual messaging to individuals as they take a blood glucose reading. Blood glucose data from the glucose meter is automatically sent to a secure cloud-based server where it can be shared with physicians and care managers, making provider interventions and interactions more timely and impactful. This information may also trigger an automated educational message in response to the reading right on the patient's meter. In addition, patients and caregivers can access data about glucose readings and trends via a secure portal or mobile application.
Category: Emerging Tech
Dexcom G4 PLATINUM
The Dexcom G4 PLATINUM is the longest Continuous Glucose Monitor sensor approved for up to 7 days' use. The Dexcom CGM shows the body's response to food and exercise. Special alarms on the receiver alert users when they are outside their target zone, so they can take action to avoid the potential health risks of either low or high blood sugar levels. It can provide data up to 288 times in a 24-hour period.
NAViSection System by Navity
The NAViSection System is an integrated technology for driving programs to collect measures of driver capability and reinforce licensing recommendations. The technology provides the context of a crash critical driving error during an on-road driving evaluation. Early development of their premier product was designed for driver rehabilitation programs in service of medically impaired and older drivers.
SenseGiz STAR
The SenseGiz Star is a wearable smart tech product that pairs with a smartphone app and can automatically detect falls/crashes and alert caregivers. It also has a panic button. It there's an emergency at 4 a.m., caregivers will receive an alarm on their smartphone that is more likely to wake them rather than a text message. This is a very unique feature as the device's accelerometer is capable of detecting up to 200g force levels, which is not available in any other commercial product. Star can also function as a pedometer and quality of sleep tracker.
Category: Inclusive Innovation
AdhereTech Smart Pill Bottle
This patented smart pill bottle sends two pieces of data to AdhereTech via the Verizon data network each time the bottle is used: a time-stamp of the open and close of the cap, and the amount of medication removed. The system then analyzes this data and compares it to the patient's recommended dosage schedule. If the system notices a discrepancy, like the patient didn't take his/her pills, the service reminds users via automated phone call or text message – as well as via on-bottle lights and chimes. AdhereTech recently began a clinical trial with The Walter Reed National Military Medical Center, and will soon start trials with Boehringer Ingelheim, Cornell.
Cityzen Sciences Smart Monitoring Shirt
The Smart Monitoring Shirt is the most integrated wearable monitoring solution. Cityzen Sciences develops smart fabric integrating micro sensors able to monitor people's heart rate, temperature, activity, localization and more. Developed initially for sport uses, the company's smart clothing is expected to be able to monitor people's health from their home, being connected with their doctor or family, in the near future.
GlassesOff
GlassesOff is an iPhone app that eliminates dependency on reading glasses through patented game-like sessions. GlassesOff scientists have developed a proprietary method for improving near vision sharpness, by improving the image processing function in the visual cortex of the brain.
QardioCore
QardioCore and QardioApp work together to provide clear, comprehensible data that assists a patient's doctor with clinical assessment leading to optimal heart-health. QardioCore continually provides medical-grade monitoring of the patient's ECG, heart rate, Heart Rate Variability, levels of physical activity, variations in body temperature, and more. Pre-processed user data allows medical providers to better focus on offering preventative healthcare measures rather than reactionary ones.
Category: The Healthy Consumer
Kinsa Smart Thermometer
The Kinsa Smart Thermometer is an ultra-low-cost mobile-connected thermometer. With just a few taps, anyone can track their symptoms, get advice from a medical professional, or see the "health weather" in the local area to know whether it's strep or flu going around and respond accordingly. With data from these devices, Kinsa is creating a real-time map of human health to track and stop the spread of illness.
Scanadu Scout
Scanadu Scout is a vital signs monitor packed with sensors that enable anyone to conduct sophisticated physical exams—in a snap. In 10 seconds from placing Scanadu Scout to their temple, it will read their temperature, heart rate, breathing rate, systolic and diastolic blood pressure, emotional stress and blood oxygenation. Patients can also share this information with their doctor to help treat and diagnosis symptoms and conditions without leaving the comfort of their own home.
Wello
Wello connects clients with fitness trainers over live, 2-way video using a laptop and webcam. By enabling workouts from home that are affordable, accessible and accountable, this online personal training service helps make it easier to get and stay fit. Clients can meet 1-on-1 with a trainer or along with a small group of other clients located throughout the world.
Category: The Healthiest Company
Prime Inc.
Prime Inc.'s Driver Health and Fitness (DHF) program is the first of its kind in the commercial carrier industry to use available digital health technology to combat metabolic syndrome that is affecting 83-percent of the nation's five million truck drivers.
The Everyday Health Awards for Innovation honor individuals, companies or organizations that are utilizing technology to design and engineer innovative products or services that help people or patients with better health outcomes, every day. Finalists were selected by a panel of distinguished experts in the digital health and wellness industry based upon innovation, impact, implementation and individuality.
The two-day Digital Health Summit conference, produced by Living in Digital Times, will be held during CES on Wednesday, January 8, 2014 from 9:00 a.m. - 5:00 p.m. and Thursday, January 9, 2014 from 9:00 a.m. -4:30 p.m. (LVCC, North Hall, N250).
About Everyday Health, Inc.
Everyday Health is a leading digital health and wellness company. Attracting 40+ million people monthly through its popular websites, mobile applications, and social media presence, Everyday Health inspires consumers to live healthier lives and helps doctors make more informed decisions for their patients. Everyday Health reaches an additional one million viewers per episode through its weekly TV series on ABC stations. The company's broad portfolio of products spans the health spectrum, from in-depth medical content for condition prevention and management to healthy lifestyle offerings. Everyday Health was founded in 2002 by CEO, Ben Wolin, and President, Mike Keriakos.