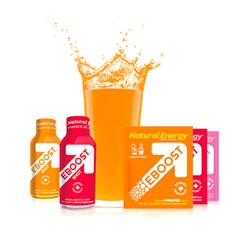 EBoost contains all of the natural energy boosting ingredients that your body will appreciate.
Brooklyn, NY (PRWEB) August 30, 2013
EBoost is a natural energy booster that delivers powerful doses of Vitamin C (1000mg), Vitamin D (1000 IU), and Vitamin B12 (2500 mcg) and contains natural ingredients including Vitamin B6, folic acid, chromium, selenium, and zinc, and a blend of herbal extracts like acai, green tea leaf extract, 5-HTP, resveratrol, pomegranate extract, huperzine A, quercetin dihydrate, ginkgo biloba leaf extract, and other energy boosting herbs. The product contains no artificial colors or flavors, gluten-free, sugar-free and lactose-free and sweetened with the Stevia leaf extract.
In addition to a natural boost of energy, EBoost also benefits the body by providing:

Energy and Focus (Green Tea Extract, Quercetin, Vitamin B12)
Immunity Support (Vitamin C, Zinc, Selenium, Astragalus, Resveratrol, and Vitamin D)
Mood Support (5HTP and Huperzine)
Hydration (Potassium and other electrolytes)
EBoost comes in effervescent powder form or liquid shots, and is available in EBoost Natural Orange, EBoost Acai Pomegranate, EBoost Pink Lemonade, EBoost Orange Shot, and EBoost Superberry Shot].
EBoost has garnered praise from celebrity actresses, performers, and athletes like Heidi Klum, Oprah Winfrey, Jillian Michaels (Fitness guru and EBoost's Chief Energy Officer), Shakira, Amar'e Stoudemire, and Anthony Fasano who have all credited the product for providing them with the natural energy boost they need to stay active.
"Finally an energy drink that gets its oomph from green tea, not chemicals or sugar," Winfrey said in O Magazine. "When my energy is flagging, this is the stuff. Its all natural with 160 milligrams of caffeine from green tea," Michaels told Shape Magazine.
"We are happy to be able to offer this amazing product to our customers," said Wayne Xu, Vice President, Everyday Vitamin Nutrition LLC. "EBoost contains all of the natural energy boosting ingredients that your body will appreciate."
EBoost can be purchased on Everyday Vitamin's website or by calling toll free customer service at 1-800-709-6280.
About Everyday Vitamin:
Everyday Vitamin is a natural health company, retail store based in Brooklyn, NY and online retailer that aims to promote nutrition and health through the sale of vitamins and supplement products, herbs and homeopathic remedies. These products include vitamins, minerals, dietary supplements, diet and weight loss teas, and others that provide numerous health benefits that assist in weight loss management, exercise nutrition, and improving overall health and wellness.
Everyday Vitamin carries thousands of well-known, trusted brands which have been proven safe and effective by solid scientific research.
Visit Everyday Vitamin's website for more information.