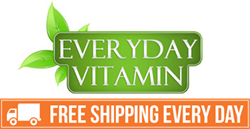 Our customers want to save money, especially during the holidays, so we're excited to offer free shipping to their homes.
Brooklyn, NY (PRWEB) November 28, 2013
Everyday Vitamin, a nutrition and natural health company, launched its upgraded website on November 26th. With a more dynamic website, customers can now easily search for their favorite products, enjoy great deals offered by the store, and have a better shopping experience.
"We've kept many of the same functionalities on this upgraded website, but customers will find the search tool a lot more accurate, and that the layout and navigation is better," said Wayne Xu, Vice President, Everyday Vitamin Nutrition LLC.
One great deal Everyday Vitamin has rolled out with their re-made website is complimentary shipping everyday. It has revised its shipping policy plan to provide complimentary shipping on all orders as of November 27, 2013, just in time for the upcoming holiday season. Customers will have time to shop for their favorite vitamins and supplements at Everyday Vitamin for the holidays just before the upcoming Cyber Monday shopping rush.
"While other larger retailers are raising their minimum orders for free shipping, we don't want to make it more burdensome for people to continue to buy from us," said Xu. "Our customers want to save money, especially during the holidays, so we're excited to offer free shipping to their homes."
Everyday Vitamin's new complimentary shipping policy applies not just to the holiday season, but customers will enjoy complimentary shipping all-year round.
Everyday Vitamin is one of the few online retailers offering free shipping in all U.S. territories. The new domestic complimentary shipping policy applies to all orders that are shipped by ground or air, weigh up to eight pounds, and delivered within the United States, including Alaska, Hawaii, and Puerto Rico. Its inexpensive international shipping rates will remain the same, as well as the short delivery times.
Everyday Vitamin is a provider of the best vitamins, minerals, dietary supplements, homeopathic remedies and consumer products. All customers are encouraged to purchase early to avoid any possible shipping delays during the Cyber-Monday holiday rush.
Everyday Vitamin products can be purchased online or by phone at 800-709-6280.
About Everyday Vitamin:
Everyday Vitamin is a natural health company, retail store based in Brooklyn, NY and online retailer that aims to promote nutrition and health through the sale of vitamins and supplement products, herbs and homeopathic remedies. These products include vitamins, minerals, dietary supplements, diet and weight loss teas, and others that provide numerous health benefits that assist in weight loss management, exercise nutrition, and improving overall health and wellness.
Everyday Vitamin carries thousands of well-known, trusted brands which have been proven safe and effective by solid scientific research.