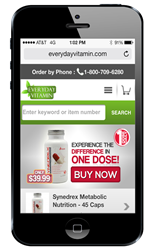 Our customers are active, internet-savvy and always searching for the best new products and our mobile site will make their lives easier.
Brooklyn, NY (PRWEB) October 18, 2013
"We recognize that offering a mobile presence that fits smoothly into the lives of our customers is an important success factor for us," said Wayne Xu, Vice President, Everyday Vitamin Nutrition LLC. "Our customers are active, internet-savvy and always searching for the best new products and we are confident that our mobile site will make their lives easier."
The site is designed to keep the same features and functionality of the desktop site but provide a better reading experience and a streamlined appearance. The mobile site focuses on simplicity.
Here are some key features of the mobile site:
Accessibility and Streamlined Navigation
"The key goal we had in mind was maintaining accessibility to our large database of products. We did not want to compromise on that in any way with the mobile site. So people can purchase any product they would otherwise find on our desktop site," Xu said.
While keeping access to their over 30,000 product inventory, the new Everyday Vitamin mobile optimized site allows customers to choose to use the mobile site as their primary shopping platform. The new mobile site maintains the most crucial navigation capabilities on the desktop website that make searching through the inventory of 30,000 products and supplements easy and fast. Searching by vitamins and supplements takes the customer through specific subcategories that makes searching more targeted. Users can also shop by health concern, and search for products under teas, homeopathics, diet and weight loss, sports nutrition and sexual health.
Customers who know exactly what products that wish to purchase can search for them using the search engine.
Fast Download Times
Download time is short, making the site fast to use and reliable overall. Everyday Vitamin used the latest technologies to allow the site to deliver content faster, and maintain functionality
New Sharing Capability
Registered customers can share information about products to their family or friends.
Order Tracking
Customers can also track their orders on the mobile site.
Product Details
Pertinent details about the products i.e. product description, supplement facts and suggested use are maintained.
Responsive Design
The site is also responsive across mobile devices – scaling up or down depending on size of the mobile device screen.
Secure Shopping
The shopping cart and purchasing process is easy, and secure, using Paypal as the checkout system. Users can add products to their wishlist by clicking on "Save to list." Users with coupon codes can simply apply them before checking out.
Vivid Images
In streamlining the interface, the site keeps large and vivid images of each product making it easy to view what the customer is purchasing.
"After months of development, we're excited to launch this to our customers, Xu said. "We encourage customers to try out the site and send us their feedback."
Everyday Vitamin encourages customers to log on to Everyday Vitamin's website on any smartphone or iPad mobile device and try it out. Any opinions or comments on the site are welcome. To submit comments, please use the feedback form on the Contact Us page.
About Everyday Vitamin:
Everyday Vitamin is a natural health company, retail store based in Brooklyn, NY and online retailer that aims to promote nutrition and health through the sale of vitamins and supplement products, herbs and homeopathic remedies. These products include vitamins, minerals, dietary supplements, diet and weight loss teas, and others that provide numerous health benefits that assist in weight loss management, exercise nutrition, and improving overall health and wellness.
Everyday Vitamin carries thousands of well-known, trusted brands which have been proven safe and effective by solid scientific research.