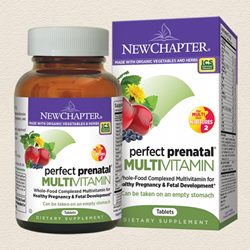 Brooklyn, NY (PRWEB) November 15, 2013
New Chapter is a trusted source of high quality supplements containing the best organic ingredients. They offer a wide array of vitamins, supplements, herbal products and that are sourced from nature's bounty of organic fruits, vegetables, herbs and superfoods. All of New Chapter's supplement products are whole foods, so they are gentle on the stomach. What compliments their abundant line of supplements are herbal, fruit and vegetable-based ingredients (aloe vera, broccoli, cinnamon, garlic, ginger, grape seed, etc.) that have been company-patented and supported by company-sponsored and third party research.
New Chapter manufacturers products that address general good health, and a variety of condition-specific healthcare concerns including blood pressure support, bone health, cardiovascular health, digestive health, mood and stress support and weight loss to name a few.
Most recently, New Chapter's, Organics, Perfect Prenatal Multivitamins, has been growing in widespread popularity and have been the supplement of choice for expecting mothers. This prenatal vitamin supplement is a whole-food, organic and probiotic product in one. It contains essential vitamins and minerals, prenatal herbal blend which combines whole foods, herbs and probiotics to support normal fetal development and a healthy pregnancy. It also contains a hormone and breast support blend of organic vegetables to support healthy estrogen metabolism and breast health, especially needed for mothers who plan to nurse their newborns.
New Chapter's Perfect Prenatal Multivitamin supplement was rated as one of 2013's 5 best prenatal vitamins by Prenatal Vitaminsz.com, rated #1 on the top prenatal vitamin brands list on the online health magazine, Better Vitamin, and also rated the #1 best prenatal vitamin on bestprenatalvitaminsguide.com.
Everyday Vitamin is now offering New Chapter, Organics, Perfect Prenatal Multivitamin, 192 count, for the sale price of $35.99, 28% off the regular price. It also qualifies for complimentary shipping.
In addition to Perfect Prenatal multivitamins, Everyday Vitamin offers nearly 100 different vitamin and herbal supplements / dosages from New Chapter. It carries general supplements, and condition-specific "Force of the Whole Herb" and "Take Care" supplement lines including:
Force of the Whole Herb products:
1. New Chapter, Cinnamon Force
2. New Chapter, Garlic Force
3. New Chapter, Ginger Force
4. New Chapter, Lemon Balm Force
Take Care supplements:
1. New Chapter, Blood Pressure Take Care
2. New Chapter, Bone Strength Take Care
3. New Chapter, Headache Take Care
Other Condition-Specific and general supplements:
1. New Chapter, CoQ10 + Food Complex
2. New Chapter, Every Man's One Daily 40+ (and Every Woman's One Daily 40+)
3. New Chapter, Holy Basil
4. New Chapter, Organics E Food Complex
5. New Chapter, Zyflamed Breast, Zyflamend Heart, Zyflamend Prostate and Zyflamend Whole Body
All New Chapter products can be purchased on Everyday Vitamin's website or by calling toll free customer support at 1-800-709-6280. All New Chapter products qualify for complimentary shipping and no minimum purchase amount is required.
About Everyday Vitamin:
Everyday Vitamin is a natural health company, retail store based in Brooklyn, NY and online retailer that aims to promote nutrition and health through the sale of vitamins and supplement products, herbs and homeopathic remedies. These products include vitamins, minerals, dietary supplements, diet and weight loss teas, and others that provide numerous health benefits that assist in weight loss management, exercise nutrition, and improving overall health and wellness.
Everyday Vitamin carries thousands of well-known, trusted brands which have been proven safe and effective by solid scientific research. Visit Everyday Vitamin's website for more information.