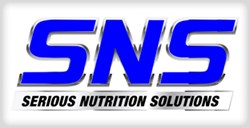 Brooklyn, NY (PRWEB) December 05, 2013
Serious Nutrition Solutions is a manufacturer of sports nutrition products that contain innovative formulations. The company's products are grouped into three main categories: Core Series, Baseline Series, and Stacks, and include the latest, top-of-the-line products in sports nutrition today. They contain a combination of nutraceutical ingredients, herbal extracts, and some novel pharmaceutical-grade ingredients.
Its Core series include, but not limited to supplements such as Focus XT, GlycoPhase, Inhibit E, and Reduce XT. These products are particularly formulated with proprietary blends of ingredients to provide multi-benefits for each product. Further, these ingredients that have been shown in scientific studies to be beneficial in sports nutrition.
Serious Nutrition Solutions' Focus XT is purported to improve mental focus, clarity, concentration, and performance. These benefits are attributed to the product's proprietary blend: Focus XT Blend. The blend includes:

Choline Bitartrate is naturally present in fat molecules and is consumable from daily diet. Choline is particularly important for production of acetylcholine, the neurotransmitter responsible for improving memory and muscle control.
L-tyrosine is one of the 22 amino acids used by cells to synthesize proteins. L-tyrosine may have benefits for mental health and mental performance.
Acetyl-L-Carnitine helps improve mental performance, memory and cognitive function. Acetyl-L-Carnitine also helps burn fat, thereby maximizing energy levels.
Dimethylaminoethanol Bitartrate is an alcohol and a precursor to choline and the neurotransmitter, acetylcholine. It is known to build, repair and stabilize cell membranes, especially those in the brain.
Vinpocetine is a synthetic derivative of the periwinkle plant (Vinca minor) extract, alkaloid vincamine. Only a few double-blind controlled clinical studies have been performed, but Vinpocetine has been marketed as a supplement for vasodilation to the brain (allowing more oxygen flow to brain cells), and for improving memory and other cognitive functions.
Huperzine A is sold in the U.S. as a dietary supplement for memory support. It has shown efficacy in people with cognitive impairment, such as Alzheimer's disease and enhancing memory in Chinese clinical trials.
Serious Nutrition Solutions' Acetyl-L-Carnitine (ALCAR) is a product under their Baseline Series. ALCAR is believed to optimize fat loss, performance, cognitive support, and immune function. These claims are based on the science and research of the product's sole ingredient, ALCAR.
ALCAR is an acetylated derivative of L-Carnitine, a naturally-occurring biosynthetic product of amino acids lysine and methionine. L-Carnitine has been found to transport lipids (or long-chain fatty acids) across the mitochondrial membrane to be metabolized and then released into the bloodstream. It also transports toxic compounds out of the cell. It allows the body to burn fat while sparing more glycogen, thus boosting energy and endurance. It is believed to increase and sustain energy during long aerobic activity. (1) L-Carnitine can be consumed from some dietary sources, including red meat, and dairy products. For vegetarians however, L-Carnitine can also be taken as a dietary supplement. ALCAR can also be used as an alternative for lipid metabolism.
ALCAR is better absorbed from the small intestine than L-carnitine and crosses the blood-brain barrier more effectively (2).
The Acetyl-group on ALCAR is said to be partly responsible in providing the cognitive benefits and improved mental performance. (3)
Everyday Vitamin carries these and other innovative brands, including, but not limited to:
1. Serious Nutrition Solutions Reduce XT
2. Serious Nutrition Solutions Arginine E2
3. Serious Nutrition Solutions Glycophase
4. Serious Nutrition Solutions Inhibit-P
All Serious Nutrition Solutions products are 15% off Everyday Vitamin's price from November until December 31, 2013. The discount will be applied automatically upon check out on Everyday Vitamin. No minimum purchase or coupon code is required.
Serious Nutrition Solutions products can be purchased online at everydayvitamin.com, by phone at 1-800-709-6280, or from the store location at 8610 25th Ave Brooklyn, NY 11214.
References:
1. Spruytenburg H. "L-Carnitine: Powerful Endurance Enhancer, or Unnecessary Ergogenic?" Vanderbilt University Website. Available at:
http://www.vanderbilt.edu/AnS/psychology/health_psychology/l-carni.htm.
2. Dietary Supplement Fact Shet: Carnitine. Office of Dietary Supplements – National Institutes of Health. Available at: http://ods.od.nih.gov/factsheets/Carnitine-HealthProfessional/
3. Acetyl-L-Carnitine: The Lesser Known Cousin. Jevenon Health Journal Volume 2 number 5 may 2003. Juvenon website. Available at: http://juvenon.com/jhj/vol2no05.htm#