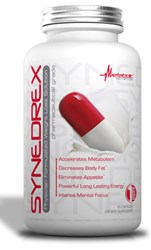 Brooklyn, NY (PRWEB) October 04, 2013
Synedrex is a pharmaceutical grade weight loss solution that works by activating metabolic rate to improve caloric burn, maximizing energy levels utilizing strong appetite suppressants, and promotes mood and intense mental focus. Synedrex is used as a supplement for enhanced bodybuilding performance, but can also be used to help lose weight and burn fat.
EverydayVitamin.com is offering a sale on Metabolic Nutrition's Synedrex brand – buy one for $39.99, buy two for $37.99, buy three for $35.99 each.
Synedrex's ingredients include a blend of vitamins: Vitamins B3, B6, B12, and Chromium, and a proprietary blend of natural plant herbal extracts and pharmaceutical grade ingredients, some of which are naturally present within the human body or diet. Some of the ingredients found in Synedrex have been known or may show improvement to curbing appetite and accelerating metabolism.
Methylxanthine – is a naturally present stimulant found in the human body from where caffeine and theobromine, the chemical found in chocolate is derived.
Synephrine – is an alkaloid substance found in some plants and animals and is typically used a stimulant and for weight loss.
Green Tea Extract – Green tea's weight loss benefits have been studied and established for years. The caffeine in green tea helps to boost metabolism and burn fat when consumed after each meal, but exists in levels that will maintain a regular heart rate. The presence of L-theanine, an amino acid commonly found in green tea is effective at suppressing appetite, maintaining the body's homeostasis (or body's stability and balance), and slowing fat metabolism and storage.
Sulbutiamine – is a derivative of thiamine (vitamin B1) that crosses the blood-brain barrier much easier than Vitamin B1. When taken as a dietary supplement, Sulbutiamine is said to improve memory, increase mental acuity, and cognitive behavior.
1,3 Dimethylamylamine – is a synthetic substance used as a weight loss and body-building dietary supplement.
Yohimbine – Although research is inconclusive, a study published in the Research of Sports Medicine Journal has shown that Yohimbine may help decrease body fat in athletes.
Alpha Lipoic Acid - is a potent antioxidant and anti-inflammatory substance found in human cells. Alpha lipoic acid enhances our ability to metabolize food into energy.
Sandalwood Oil – has been used in traditional Ayurvedic medicine to treat mental disorders. When used as a dietary supplement, Sandalwood oil may assist with the negative feelings associated with obsessive dieting. Because Sandalwood oil allows one to enter into a meditative state, it may be able to curb obsessive attitudes and compulsions around food.
Poly-iiodo-Thyronine – is a hormone. It is used for weight loss, hyperlipidemia, and body building as an oral supplement.
Simmondsin (extract) – is a natural extract of jojoba seeds. It is used to reduce appetite by helping to reduce craving for food.
Metabolic Nutrition is a manufacturer of nutritional supplements in the sports nutrition space.
Metabolic Nutrition's Synedrex can be purchased online at Everyday Vitamin's website, by phone at 1-800-709-6280, or from the store location at 8610 25th Ave, Brooklyn, NY 11214.
About Everyday Vitamin:
Everyday Vitamin is a natural health company, retail store based in Brooklyn, NY and online retailer that aims to promote nutrition and health through the sale of vitamins and supplement products, herbs and homeopathic remedies. These products include vitamins, minerals, dietary supplements, diet and weight loss teas, and others that provide numerous health benefits that assist in weight loss management, exercise nutrition, and improving overall health and wellness.
Everyday Vitamin carries thousands of well-known, trusted brands which have been proven safe and effective by solid scientific research.
Visit Everyday Vitamin's website for more information.