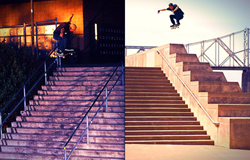 San Diego, CA (PRWEB) March 12, 2014
A thrilling new photo gallery from the Everything No Hands website features some of the most unbelievable pictures of freestyle skateboarding around. With stunning photos of skaters leaping over impossibly tall stairs, defying gravity while skating on walls instead of the ground, and just generally looking like they are having some fun, awesome and potentially bone breaking good times, this new gallery is perfect for anyone who enjoys skating or simply the thrill of seeing people narrowly avoid injury, or worse, while performing amazing feats.
The title of the new gallery, "Shattered Ankles or Sweet Victory? You Decide", does not really depict how ridiculous some of the jumps look. While at least one of the photos shows the jump sequence, ending with a safe landing, the rest will have viewers wondering if there might actually have been some shattered ankles after the camera's shutter clicked close. But this is all in good keeping with EverythingNoHands.com's fun-loving, risk-taking, dare-devil philosophy on life.
The new freestyle skating photo gallery is just one of the many galleries that have been posted since the launch of EverythingNoHands.com earlier this year. The new website, which is dedicated to the pursuit of happiness through no handed activities, features photos of everything from no handed moto-x stunts to no handed car washes. Those who enjoy amazing stunts, death defying sports moments, sexy ladies and awesome fun times will definitely find this website right up their ally. Everything No Hands does its best to keep visitors enthralled with the awesome, fun, crazy, sexy and sometimes bizarre world of living life with "No hands!"
The EverythingNoHands.com shop also offers some great clothing for those who want to express themselves or just want to get their hands on some cool new gear. The store offers free shipping for all orders of or above $50, as well as special offers extended to those who sign up for an EverythingNoHands.com account and join the mailing list. Everything No Handers may also like to join Everything No Hands' Facebook page to get their daily dose of fun pictures and website updates.
To view the awesome new photo gallery, click here, or head to EverythingNoHands.com to visit the store and check out the plethora of fun and entertaining photos and videos available.