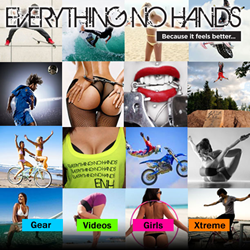 San Diego, CA (PRWEB) March 10, 2014
EverythingNoHands.com recently released a sexy new video featuring ENH Girls Courtney and Alex having some winter fun and showing off their hooping skills at Pacific Beach, San Diego. EverythingNoHands.com, which is a new website dedicated to the pursuit of happiness through no handed activities, shows off its wild side in this fun, sexy new video.
The video, titled "Hula Hoops + Courtney + Alex = Red Hot Day in Pacific Beach!" features the video footage taken at an exclusive Everything No Hands photo shoot. Both Courtney and Alex show off their great hooping skills as they hoop dance and show off some other great tricks, while modeling some of Everything No Hands signature shirts and their own bikini bottoms – the perfect beachy combo! The action is also captured by a camera attached to the hula hoops, so viewers can get an up close view of these beautiful women.
The video shoot then moves to Pacific Beach Pier, where the girls get their hands tied up – the better to ensure they take the Everything No Hands theme seriously. Finally, as the last rays of California sunshine fade over the Pacific Ocean, Courtney and Alex end a long day of fun in the sun by blowing a kiss to all the viewers around the world. Those who enjoy this video will definitely enjoy all the other photos and videos found on EverythingNoHands.com and the Everything No Hands Facebook page. The website gives new meaning to the phrase "Look, Ma! No hands!" with everything from no handed snowmobile stunts to gorgeous ladies no-handing it in handcuffs.
To check out the new jaw dropping photo session video, click here, or head to EverythingNoHands.com to see more of Courtney, Alem and the other ENH models, enjoy the rest of the photos and videos, and visit the ENH store.