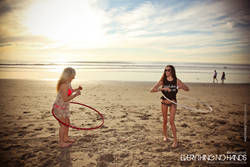 San Diego, CA (PRWEB) March 17, 2014
A new photo gallery from Everything No Hands features photos from an exclusive photo session with famed California Andy King. The gallery shows ENH Girls Courtney and Alex enjoying a mild day at Pacific Beach, San Diego, modeling ENH tank tops and having fun with hula hoops. EverythingNoHands.com, which is a new website dedicated to the pursuit of happiness through no handed activities, shows off its wild side in this fun new gallery.
The girls playfully hoop things up as Andy King captures each picture with his ability to capture natural expressions and moments with a fresh and unique style. With their fun-loving, sexy, and sassy qualities clearly showing in these photos, Courtney and Alex beautifully represent what the Everything No Hands lifestyle is all about. The new photo gallery is just one of many that EverythingNoHands.com has released since the launch of the website earlier this year.
The new website is dedicated to all sports and activities that do not require the use of hands. Featuring everything from no-handed snowmobile stunts to amazingly skillful no-handed pole dancing poses, Everything No Hands does its best to keep visitors enthralled with the awesome, fun, crazy, sexy and sometimes bizarre world of living life with "No hands!"
The EverythingNoHands.com shop also offers some great clothing for those who want to express themselves or just want to get their hands on some shiny new shirts, a few of which are modeled by Alex and Courtney in the photo gallery. The store offers free shipping for all order of or above $50, as well as special offers extended to those who sign up for an EverythingNoHands.com account and join the mailing list. Everything No Handers may also like to join Everything No Hands' Facebook page to get their daily dose of fun pictures and website updates.
To see the hot new gallery, click here, or visit EverythingNoHands.com to see more of Courtney and Alex and the other ENH Girls.