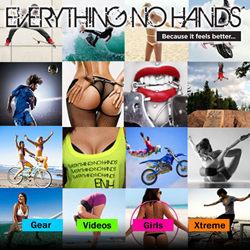 San Diego, CA (PRWEB) March 07, 2014
Raw footage from EverythingNoHands.com's new photo gallery takes a look at the stunning Ashley as she lights up the scene in the hottest photo shoot yet. Everything No Hand's features American sweetheart Ashley giving a striking display of beauty and a fiery look that speaks for itself. Whether it is in a helicopter or on the cold side of a mountain peak, this girl embraces the Everything No Hands way of life with her wild but gorgeous looks that can melt any man's heart.
EverythingNoHand.com's new photo gallery titled "ENH Girl Ashley Is On FIRE!!! (22 pics)" shows Ashley rocking her athletic and jaw-dropping rock hard body that proves brawn and beauty can co-exist. It comes as no surprise, as ENH's new cover girl was a former service member of the U.S. Airforce. But what separates this photo gallery from others out there is that it embraces both the sexy – and nerdy – side of Ashley. Fantasy cosplay? Check. Sci-Fi Convention? Double check. Scantily-clad beauty working a helicopter? You got it. What's not to love about her?
This gallery is just one of the many new upcoming photo galleries that can be seen on the website. Since its launch earlier this year, the website features some of the most insane and fun photos on the internet. From the hair-raising and extreme sport stunt videos to the downright alluring covergirl photoshoots, there is something for everyone on the website. The website features an entertaining format for all users who enjoy no-handed sports and activities that brings the "Look, Ma! No Hands" attitude to new extreme levels. Browsers are also encouraged to check out the Everything No Hands Facebook page for even more pictures, videos and more entertainment with the latest in updates and exclusive content.
Also featured on the website is the ENH webstore, which features some amazing swag and gear for the no-hands preferred lifestyle. All visitors can check out the store for some nifty offers on shirts for such as their Gunshow Tank Tops for the men and the ENH Stunning Deep-V Burnout Tees for the ladies. Customers who place orders of $50 or more will be given free shipping and handling, and members can sigh-up for to receive Everything No Hand's personal mailing list which offers exclusive deals and custom content.
To view ENH's stunning photo gallery, click here, or visit EverythingNoHands.com to check out more photos and videos and browse through the Everything No Hands shop.