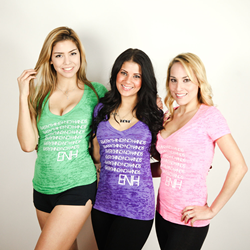 San Diego, CA (PRWEB) March 28, 2014
EverythingNoHands.com is a new website that takes the "Look, Ma! No Hands!" anecdote to the extreme. The site, which was just recently launched, features all manner of sports, activities and stunts requiring no hands, as well as some extremely beautiful women. The website also offers some awesome gear in the Everything No Hands online clothing store.
The ENH shop has something for everyone, with cool colored tees and tanks for both guys and girls, as well as the ever-popular ENH all-American Trucker Hat. The shop is easy to browse through, with filters for size, male and female clothing, and price range, so shoppers can find just what they are looking for.
One of the best things about ENH's online shop, aside from the awesome clothing of course, is the fun photos of ENH's models showing off the merchandise. With the ENH girls, including a few of which have been featured in ENH's featured photo galleries and videos, doing their thing and having a blast, browsing through the ladies' clothing options is not only informative but entertaining as well. Girls' shirts come in a number of fun colors like Purple Rush, Black Out, Green Peace, Hot Pink, and Tahiti Blue.
But let's not leave out the boys! Models that bear a striking resemblance to Everything No Hands' creators, Kevin and Darin Blue, show off the numerous v-neck and crew-neck tees, as well as everyone's favorite, the ENH Gunshow Tank, while hamming it up, busting out some karate moves, and having a great time!
Those who are interested in checking out the offerings at the Everything No Hands store will also be glad to know that free shipping is applied to all orders of $50 or more. Signing up for ENH's mailing list also makes exclusive offers available to fans of ENH. And for even more fun, sexy-crazy-daredevil photos and a awesome videos, people can join the Everything No Hands Facebook page, for daily doses of awesome.
To check out ENH's online store, click here, or just head to EverythingNoHands.com to view the plethora of entertaining photos and videos posted on the website.