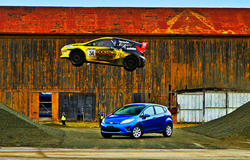 San Diego, CA (PRWEB) March 11, 2014
So, those who thought that the Ford Focus was just a run of the mill vehicle for suburbanites to drive around in will have to think again after viewing Everything No Hand's new photo gallery. The pictures feature the Focus racing it out on dirt tracks and accelerating over ramps in ways most people would not think possible if they were to see the small family-oriented hatchback parked in their neighbor's driveway. EverythingNoHands.com, which is a new website dedicated to the pursuit of happiness through no handed activities, proves in this new gallery that good things can come in little packages and fun can be found from some pretty unexpected places.
The thrilling new photo gallery, titled "The UN-Expected Moment You Suddenly Respect Ford Focus" takes a look at a form of racing that is relatively new in the United States: Rallycross. According to Wikipedia (a most reliable source of info), "Rallycross is a form of sprint style automobile racing, held on a closed mixed-surface racing circuit, with modified production or specially built road cars." This description, however, does not quite encompass how cool these races really are.
With modified production model cars tearing up the dirt, flying over crossover jumps, burning rubber on the asphalt, and slamming into the track barriers, this form of racing might inspire some people to take their small family cars to a whole new level. But, speeders beware! The gallery also features some pretty dangerous looking lady cops that seem like they would definitely issue people more than just a warning. Sure, they are probably just dressed that way for the event, but who knows what they will do with those handcuffs!
This new gallery is just one of the many that have been released since EverythingNoHands.com launched early this year. The new website is dedicated to all sports and activities that do not require the use of hands. Featuring everything from no-handed snowmobile stunts to amazingly skillful no-handed pole dancing poses, Everything No Hands does its best to keep visitors enthralled with the awesome, fun, crazy, sexy and sometimes bizarre world of living life with "No hands!"
The EverythingNoHands.com shop also offers some great clothing for those who want to express themselves or just want to get their hands on some cool new gear. The store offers free shipping for all orders of or above $50, as well as special offers extended to those who sign up for an EverythingNoHands.com account and join the mailing list. Everything No Handers may also like to join Everything No Hands' Facebook page to get their daily dose of fun pictures and website updates.
To view the awesome new photo gallery, click here, or head to EverythingNoHands.com to visit the store and check out the plethora of fun and entertaining photos and videos available.