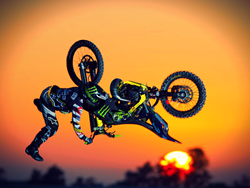 San Diego, CA (PRWEB) March 14, 2014
Everything No Hands recently posted a thrilling new photo gallery that will have viewers hearing the roar of engines and imagining the smells of dirt and motor oil, with pictures of the most amazing death defying stunts performed by daredevil freestyle motocross riders. EverythingNoHands.com, which is a new website dedicated to the pursuit of happiness through no handed activities, shows off its wild side in this fun and thrilling new gallery.
The hot new picture gallery, titled "Big Air Don't Care", shows some of the best moments from freestyle motocross and big air competitions. With crazy photos of backflips, Indian air, one handed supermans, no-handed supermans(Everything No Hands' personal favorite), and other jaw-dropping feats, the new gallery captures some of the exhilaration and inherent danger that goes along with freestyle motocross riding.
This new gallery is just one of the many that have been released since EverythingNoHands.com launched early this year. The new website is dedicated to all sports and activities that do not require the use of hands. Featuring everything from no-handed snowmobile stunts to amazingly skillful no-handed pole dancing poses, Everything No Hands does its best to keep visitors enthralled with the awesome, fun, crazy, sexy and sometimes bizarre world of living life with "No hands!"
The EverythingNoHands.com shop also offers some great clothing for those who want to express themselves or just want to get their hands on some awesome new gear. The store offers free shipping for all orders of or above $50, as well as special offers extended to those who sign up for an EverythingNoHands.com account and join the mailing list. Everything No Handers may also like to join Everything No Hands' Facebook page to get their daily dose of fun pictures and website updates.
To view the thrilling new photo gallery click here, or head to EverythingNoHands.com to visit the store and check out the plethora of fun and entertaining photos and videos available.