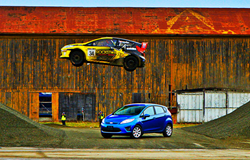 San Diego, CA (PRWEB) March 30, 2014
EverythingNoHands.com recently released a picture gallery that Rally X fanatics will truly enjoy and give those who are unfamiliar with the sport a new reason to respect family-oriented hatchbacks like the Ford Focus. EverythingNoHands.com is a new website that takes the "Look, Ma! No Hands!" anecdote to the extreme. The site, which was just recently launched, features all manner of sports, activities and stunts requiring no hands, as well as some extremely beautiful women. The new gallery continues to "bring-it" with 23 of the best photos in Rally X racing.
The new picture gallery entitled "The UN-Expected Moment You Suddenly Respect Ford Focus" features pictures of these smallish cars which most people would more likely expect to see parked outside their friendly neighbor's house than hurtling over gaps, tearing up dirt tracks and burning rubber on the asphalt stretches of the track. With spectacular wipeouts, flying cars, and really hot Rally X girls, this new gallery is not one to miss.
This new photo gallery is just one of many that have been released by EverythingNoHands.com since the launch of the website earlier this year. The site, which takes the "Look, Ma! No hands!" anecdote to new heights, features some awesome videos and stunning photo galleries depicting everything from death defying no-handed freestyle motocross stunts to taking the no-hands theme quite literally with handcuffed sexy ladies. Those who want even more Everything No Hands pictures, videos and action can also join the Everything No Hands Facebook page for daily updates and exclusive content.
The ENH store also offers some pretty awesome gear for those living the no hands lifestyle. Visitors should check out the store for great shirts for both guys and girls and also the ENH American Trucker Hat. Orders of $50 or more also get free shipping, and those who sign up for Everything No Hands' mailing list can avail of exclusive offers, as well as custom content.
To view ENH's awesome new picture gallery, click here, or visit EverythingNoHands.com to check out more photos and videos and browse through the Everything No Hands shop.