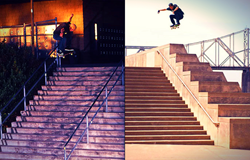 San Diego, CA (PRWEB) March 21, 2014
The new Sports Archive on EverythingNoHands.com has all that a the no-handed sports fanatic could ever want, with awesome picture galleries and stunning videos of amazing sports stunts and inspiring moments in competitions. EverythingNoHands.com is a new website that takes the "Look, Ma! No Hands!" anecdote to the extreme. The site, which was just recently launched by the "Blues Brothers", Kevin and Darin Blue, features all manner of sports, activities and stunts requiring no hands, as well as some extremely beautiful women. The website also features its own brand of clothing and hats, which can be found in Everything No Hands' online store.
The website helps guests find more of what they enjoy most by separating posts into different categories, the Sports Archive being one of the favorites. Recent additions to this section of the website include an amazing GoPro video of Shaun White practicing his triple cork spin for the Winter X Games, an awesome photo gallery with some of the sickest snowboard stunts around, and a video of the Mavericks Big Wave Competition.
Everything at EverythingNoHands.com is set up to portray and share the spirit of fun and adventure that the Everything No Hands concept is all about. The website is also optimized for maximum ease of use, so that visitors to the site can enjoy their time and easily find what they are looking for. With separate pages that sort Everything No Hands' content into categories including the Everything No Hands Store, the Girls section, Xtreme section, Sports section and WTF section, those visiting the website will be able to find what they are looking for without any problem.
Aside from the content posted by EverythingNoHands.com, the website also prompts visitors and users to "Submit your awesome, super cool, ballsy, jaw-dropping, omfg, handcuffed, tied up, hilarious and sexy no-hands pics and selfies" by posting them via the picture upload feature on EverythingNoHands.com or emailing them to the site administrators. These pictures will be added to the other content already available in the Girls, Xtreme, Sports and WTF sections of the website. EverythingNoHands.com also encourages visitors to the site to sign up for the mailing list that sends email updates on any new content on EverythingNoHands.com and also gives those who join the mailing list access to special offers, custom content and more.
To see the hot new Sports Archive, click here, or visit EverythingNoHands.com.