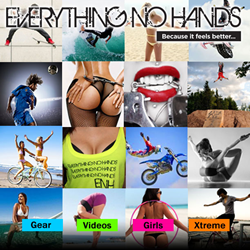 San Diego, CA (PRWEB) March 08, 2014
Everything No Hands celebrates the start of the weekend in a crazy new photo gallery that features a different side of the website than most of the other galleries – its backside, to be precise. While booty shaking has been around for as long as most people can remember, this generation's manifestation has gone pretty much universal, with the term "twerking" topping Google's Trends list for 2013. For those who are big fans of this booty-popping, Google-list-topping dance, or just lovely derrieres in general, this new ENH photo gallery will be right up their alley.
This new gallery, which is titled "OMAGERD, It's Friday! Whistle While You Twerk (16 Pics)" is a bit "cheeky" to be sure, but those who enjoy a bit of good fun and a lot of good behinds will certainly find this piece very entertaining. The hot new gallery features ladies getting their "twerk on" pretty much everywhere; from boats to bedrooms and from public washrooms to outdoor exhibitions. Of course, no homage to twerking would be complete without a token Miley Cyrus picture, and the gallery ends with a GIF showing two lovely ladies giving a round of applause… in TRUE Everything No Hands fashion.
The fun new gallery is just one of the many which have been uploaded since the launch of the ENH site earlier this year. EverythingNoHands.com features pictures, videos and merchandise that all impart the crazy, sexy, daredevil essence of Everything No hands. With new content being uploaded nearly every day, the website is the perfect place for those who are fans of wing suit flights, motocross, vertical pole, skate boarding, handcuffs and more! Those who want even more fun can join Everything No Hands' Facebook page.
EverythingNoHands.com also encourages their users to submit their own "awesome, super cool, ballsy, jaw-dropping, omfg, handcuffed, tied up, hilarious and sexy no-hands pics and selfies" by using the picture upload tool on the website or sending them in via email. Users may also wish to sign up for Everything No Hands' mailing list, which will give them regular updates on any new content added to the site, as well as access to exclusive offers from the EverythingNoHands.com shop, custom content and more.
To check out the website and view the fun-filled new photo gallery, visit EverythingNoHands.com by clicking here.