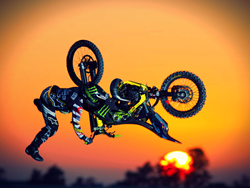 San Diego, CA (PRWEB) March 24, 2014
Death defying tower climbs, crazy no handed Moto X stunts, and daring snowmobile ladies braving the snow in nothing but bikinis, boots and scarves – all this and more is now available in Everything No Hands' new Xtreme Archive. EverythingNoHands.com is a new website that takes the "Look, Ma! No Hands!" anecdote to the extreme. The site, which was just recently launched, features all manner of sports, activities and stunts requiring no hands, as well as some extremely beautiful women. The website also offers its own brand of clothing and hats, which can be found in Everything No Hands' online store.
The new posting category offers fanatics of extreme sports and daredevilry in general quick access to the content that they will enjoy best. Recent additions to ENH's Xtreme Archive include photo galleries featuring the best moments in Rally X racing, snowmobile stunts people won't have seen the last winter Olympics and a video shared by some crazy Russian teens who managed to climb to the top of Shanghai Towers without any safety ropes. While the website does not suggest readers attempt any of these feats on their own, the sheer audacity of those in the photos or videos will certainly inspire the timid of heart to take some risks in their own lives and live it to the fullest with "no hands".
This new gallery is just one of the many that have been released since EverythingNoHands.com launched early this year. The new website is dedicated to all sports and activities that do not require the use of hands. Featuring everything from no-handed freestyle motocross stunts to amazingly skillful no-handed pole dancing poses, Everything No Hands does its best to keep visitors enthralled with the awesome, fun, crazy, sexy and sometimes bizarre world of living life with "No hands!"
The EverythingNoHands.com shop also offers some great clothing for those who want to express themselves or just want to get their hands on some awesome new gear. The store offers free shipping for all orders of or above $50, as well as special offers extended to those who sign up for an EverythingNoHands.com account and join the mailing list. Everything No Handers may also like to join Everything No Hands' Facebook page to get their daily dose of fun pictures and website updates.
To view the thrilling new photo gallery and video category click here, or head to EverythingNoHands.com to visit the store and check out the plethora of other fun and entertaining photos and videos available.