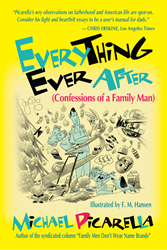 'Picarella's wry observations on fatherhood and American life are spot-on. Consider his light and heartfelt essays to be a user's manual for dads.' - Chris Erskine, Los Angeles Times
Los Angeles, CA (PRWEB) July 06, 2014
On Tuesday, July 8, 2014, Muse Harbor Publishing and Mrs. Figs' Bookworm will host a family literary event to launch Muse Harbor's new illustrated humor book, "Everything Ever After: Confessions of a Family Man" by popular Southern California newspaper columnist Michael Picarella. The signing event will feature an appearance by columnist/author Michael Picarella at Mrs. Figs' Bookworm at 93 East Daily Drive in Camarillo, CA from 5-7 p.m. There is no charge to the public and refreshments will be served. For more details, please visit mrsfigs.com.
"Everything Ever After" was recently coined a "User Manual for Dads" and at 6:00 p.m., Picarella will entertain attendees with his poignant and laugh-aloud funny stories about marriage, fatherhood, family and suburban community life. The author will sign copies as Mrs. Fig's Bookworm bookstore provides food and refreshments to the public from 5-7 p.m.
Author Picarella (aka Suburb Man) is an award-winning writer and National Society of Newspaper Columnists member. Since 2006, he has written his column "Family Men Don't Wear Name Brands," for The Acorn Newspapers in Los Angeles and Ventura Counties. His other column, "Picarella Family Report" ran in The Signal Newspaper for over two years.
Picarella's refreshingly clean humor stands out from other humorists in an age where families are often depicted as wisecracking and argumentative. Writer/Director Gregory Poppin (ESPY Show Awards, My Crazy Life) says, "Michael's sharp wit collides with the stark reality of trying to be a Cosby husband and father in a 'Pulp Fiction' world. I read about his misadventures with pity, until I realized, oh… that's my life, too."
"Everything Ever After" is also available online on museharbor.com. Muse Harbor is offering a 15% discount on both print and e-book copies when purchased at MuseHarbor.com using this coupon code: MRSFIGS. The book is also available on Amazon, BarnesAndNoble.com and iTunes.
To read stories by the author, visit MichaelPicarellaColumn.com and his website MichaelPicarella.com.
"Everything Ever After" is illustrated with clever cartoons by famed illustrator F.M. Hansen, whose cartoons have been published in numerous anthologies worldwide.
Picarella can be reached for further Radio, TV, Print and Online interviews by contacting Margaux (at) museharbor (dot) com. Friend Michael Picarella on Facebook for his latest humor and news.
Muse Harbor Publishing was founded in Camarillo in 2011 as an organization of "writers helping writers, in service to our readers."
Based in Santa Barbara, "Innovative Creative Content: What Makes You Different Connects Us All" is a Content Marketing Firm focusing on successful client branding and global marketing through targeted content and storytelling campaigns. For more information, visit their website at http://www.innovativecreative.co or contact them directly at email (at) innovativecreative (dot) co.