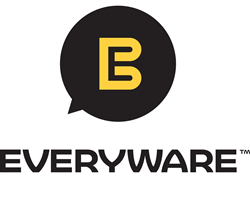 "Everyware completely changes the way that businesses communicate with their customers. Our customer focus approach allows businesses to utilize our platform to engage customers at different touch points to improve the customer journey", says Larry Talley
(PRWEB) September 07, 2016
Everyware's innovation will take TechCrunch Disrupt 2016 by storm debuting their newest engagement platform September 12-14, at Pier 48 in San Francisco. Their game-changing technology promotes real interactive relationships between businesses and customers. What begins as a simple appointment or reminder, quickly becomes meaningful communication that drives customer service to a new level.
One platform with many solutions, businesses now have access to Everyware's digital marketing suite of products. A simple dashboard delivers the latest powerful marketing tools to manage marketing, point-of-sale transactions, scheduling appointments, email and SMS campaigns.
For consumers, Everyware will be launching its next-gen mobile app that connects people to places with a unique twist. Powered by Google, the social app delivers personalized location-based content from all the best businesses including local bars, restaurants and everything in between.
Users can find, collect and share all their favorite places with friends, family and co-workers by creating and sharing personalized channels. Instead of consumers relying on Yelp or OpenTable for reviews, Everyware creates a peer-to-peer network of reviews from user's own social network. The app allows businesses to streamline messaging via push notification with geo-fencing and iBeacon proximity targeting.
Everyware will join some of the country's most notable disruptive technology companies at TechCrunch Disrupt.
About Everyware
Everyware is the leading provider of mobile technology that simplifies marketing and communication for businesses by creating a personalized mobile connection that drives loyalty and redefines customer service. Everyware promotes real relationships between businesses and customers using just a mobile number. Visit our website today at everyware.com to see how Everyware can change the way you do business.
About TechCrunch Disrupt
TechCrunch Disrupt SF 2016 is TechCrunch's tenth annual conference in San Francisco. The format combines top thought-leader discussions with new product and company launches. Morning executive discussions debate technology-driven disruptions in many industries, while the afternoons are reserved for the Startup Battlefield, where 20+ new companies will launch for the first time onstage, selected to present from numerous applications received from around the world. The winning company will receive a $50,000 grand prize and the Disrupt Cup at the conclusion of the conference. The conference is September 12-14, 2016 at Pier 48 in San Francisco.