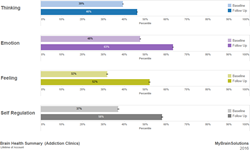 Addiction is a growing epidemic, and prescription drug overdoses in particular are at an all-time high.
San Francisco, CA (PRWEB) June 08, 2016
In the last two years, MyBrainSolutions.com has worked with over 100 clinics and recovery centers in the addiction recovery space and has now hit a landmark 10,000 patients in its addiction database. Over 350 clinicians across the country have successfully used MyBrainSolutions as an adjunctive training and therapy for self-empowering patients struggling with substance abuse, eating disorders or other addictions.
"Addiction is a growing epidemic, and prescription drug overdoses in particular are at an all-time high," said Gail Echeverria, Clinical Director of Chemical Dependency at Broadway Treatment Center. "Too many of our young become old addicts with mountains of wreckage from years of using and repeated episodes of jail or treatment. Something has to change, as we cannot provide the same treatment over and over, year after year and not see better outcomes. It's essential that we adopt these new emerging tools to do everything in our power to fight this epidemic."
MyBrainSolutions data has shown statistically significant impaired cognitive functioning in addiction patients that are assessed at the start of their treatment. Self-regulation and positivity are particularly reduced. In 2015, data from a patient's baseline assessment to their follow-up assessment at the end of treatment showed that thinking improved by 18%, emotional functioning improved by 31%, and self-regulation improved by 57%. Feelings of positivity saw the highest level of improvement at 63%.
MyBrainSolutions is underpinned by the world's largest database on human brain function, structure and performance. "We've merely scratched the surface of uncovering some amazing integrative insights around the brain's role in addiction patients, and expect to find more insights and outcomes as our database of users grows that could have implications for how we treat patients, what prescriptions they receive and what specific CBT and brain training exercises we recommend based on their different genetic makeup and brain profile," said Dr. Evian Gordon, CEO of MyBrainSolutions.
About MyBrainSolutions
MyBrainSolutions is an online integrated self-empowerment platform to assess the brain and provide engaging digital health tools that improve brain health. The platform reduces stress and improves cognitive and emotional functions for employees and customers using scalable, confidential and cost-effective methods. Over 30 apps are available that focus on increasing positivity, self-regulation, processing time, memory, focus and reducing negativity biases and destructive thoughts. MyBrainSolutions is owned by a subsidiary of Brain Resource Limited. For more information, visit http://www.mybrainsolutions.com.
About the NALA™
The NALA offers small and medium-sized businesses effective ways to reach customers through new media. As a single-agency source, the NALA helps businesses flourish in their local community. The NALA's mission is to promote a business' relevant and newsworthy events and achievements, both online and through traditional media. For media inquiries, please call 805.650.6121, ext. 361.