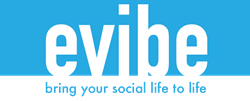 "We were tired of all the Websites that focus on quantity over quality in relationships and self-branding and voyeurism over authentic expression and human contact." - Alex Lewalle
Cambridge, MA (PRWEB) February 19, 2014
Co-founders Alex Lewalle, 28, and Vincent Bouzeran, 32, announced pre-registration for their highly anticipated new online-to-offline social networking site and application, Evibe, showcased on Tuesday at Boston New Tech. The two developed the company while in residence at Krash, an M.I.T. and Harvard University-partnered communal living and working space in Cambridge, Massachusetts.
Evibe is a one-stop social networking platform armed with technologies designed to help members of generations X and Y effortlessly meet the type of new people they are looking for and explore new interests. It offers a full suite of networking and planning tools to facilitate relationships driven by mutual interests and meant to survive outside of cyberspace. Users can collaborate in creating and planning real-time activities, or "Vibes", as public or private as they choose, with members of their existing social networks and "target networks",. When a service or good becomes a part of the activity, Evibers can request real-time promotions from area merchants via the site's B2C collaborative marketing platform.
Additional Evibe features include seamless mobile navigation to activity locations, mapping of other users' locations, destination-based social media, reservation booking, and notifications of developing activities and user availabilities.
"We were tired of all the Websites that focus on quantity over quality in relationships and self-branding and voyeurism over authentic expression and human contact," explains Lewalle. "The older we get the more walls we create and the harder it becomes to see them. Spending more and more time on these online social networks that encourage using avatars to make friends of other avatars does little to enrich our lives. We wanted to figure out how to best apply technology, design and usability to allow people to network on and offline in a more genuine way. We want evibe to completely revolutionize how we live our personal lives."
Users interested in pre-registering and getting exclusive access to Vibes being planned in commemoration of the launch by top restauranteurs, mixologists, and club owners can go to http://www.evibe.com. For more information, please write to contact(at)evibe(dot)com.