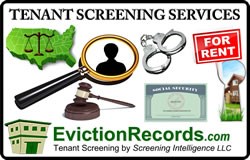 The Better Business Bureau has listed EvictionRecords.com by Screening Intelligence as a BBB Accredited Business.
Boston, MA (PRWEB) October 28, 2013
The Better Business Bureau (BBB) has listed EvictionRecords.com by Screening Intelligence as a BBB Accredited Business, proving to the company's customers that it is a safe, secure and trustworthy business to work with for all of their eviction history reports and tenant check needs. In its Reliability Report, the Better Business Bureau provided EvictionRecords.com with an A level rating.
The 2013 rating for EvictionRecords.com Tenant Reports was improved because of the fact that there were no consumer complaints against the company. In addition, EvictionRecords.com provided the BBB with an ample amount of background information in order for the organization to evaluate and analyze the company and its handling of consumer affairs. By confirming that Screening Intelligence Background Checks is an accredited business, the BBB has determined that the company handles its customers complaints and feedback promptly and appropriately. In addition, the organization confirms that EvictionRecords.com has upheld a certain standard of ethics when it comes to practicing business and working with customers.
EvictionRecords.com is known as a trusted company for local, statewide and nationwide eviction history reports and tenant reports. Landlords, property owners and managers from across the country utilize the company's tenant report services in order to determine if a tenant is qualified to live or conduct business in one of their properties.
The company is committed to providing its customers with accurate tenant reports in the shortest amount of time. Online order forms are easy to use, and only take a matter of minutes to complete. High quality eviction history reports and exemplary customer service are the top priorities at EvictionRecords.com. The company takes pride in its implementation of customer suggestions, and company leaders note that all customer feedback is taken into account as the business continues to grow.
For more information on EvictionRecords.com, the tenant report services the company offers and its BBB accreditation, contact a representative from the company today.
About EvictionRecords.com
Eviction Records provides accurate and affordable resident screening solutions to help landlords and property managers make informed tenant screening decisions. Tenant screening services include: eviction checks, criminal checks, a federal report check, county court checks, a national sex offender registry search, identity verification, and an address history check.