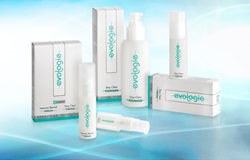 'It's a privilege to have Evologie join Space NK's highly edited selection of the best beauty products sourced from innovators all over the world,' says Evologie® CEO and Founder, Dr. Robert Nagel.
New York, NY (PRWEB) April 08, 2014
Evologie®'s Stay Clear Cleanser, Serum and Cream are formulated with YS3 Complex®, a patent-pending delivery system that effectively penetrates skin's epidermal barrier to deliver a natural blend of intense, hydrators, protective antioxidants and essential amino acids directly to where skin needs them the most. Each formula works quickly and intensively to dramatically hydrate, clear and visibly improve skin's appearance—all at once. Evologie® evolves with skin's changing needs from adolescence to adulthood—regardless of age, ethnicity or sensitivity.
Doctor-developed. Validated clinical results.

Deeply moisturizes so skin feels healthier, more hydrated, and smooth
Evens skin tone, visibly reduces appearance of fine lines
Clears skin without dryness or irritation
Improves appearance of discoloration spots and other skin imperfections
Founded on a father's love for his daughter, Evologie® made its debut as an innovative solution developed by doctors utilizing advanced science to effectively treat disruptive skin problems. The results were so dramatic, Evologie® quickly evolved into something much more as consumers began to see significant improvement in their skin's tone, texture and overall appearance. Today, Evologie® continues to evolve beyond the most advanced skincare to revolutionize skin health.
Space NK, founded by Nicky Kinnaird, is an innovative beauty retailer committed to offering a well informed, unbiased opinion on an edited selection of the best specialist skincare, makeup, fragrance, toiletries and accessories within an environment that is lively, upbeat and informal. Space NK continually aims to deliver the highest possible level of customer care, treating people as individuals and offering product choices in a language that customers can understand. Space NK currently operates more than 80 boutiques across the UK and US. Evologie® will be available at all 23 US locations including Space NK at select Bloomingdale's and spacenk.com beginning in April.