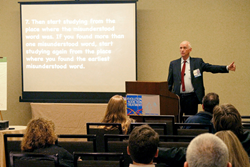 These principles I shared with them form the foundation of our rehabilitation program and have been integral to the program's success since its founding in 1966.
(PRWEB) February 17, 2015
In early February, more than 600 professionals in the addiction treatment field gathered at the Westin Los Angeles Airport Hotel to share their expertise. This was The Evolution of Addiction Treatment conference that offered six keynote addresses and dozens of informative workshops to attendees eager to share their different methodologies and learn from each other. On Saturday, the 7th of February, Narconon president Clark Carr was joined by Richard Lennox, PhD, and Marie Sternquist, both research scientists with Chestnut Health Systems of North Carolina, to present workshop attendees with key information related to the Narconon method of teaching recovering addicts 'learning skills' and also of instructing counselors in the same.
Persons in alcohol and other drug recovery typically present themselves for treatment with serious to severe cognitive dysfunction (learning and thinking problems). The question is how can you teach persons vital life skills for living drug-free lives if they 'can't learn'? In an intensively interactive workshop, Carr addressed this dilemma with fundamentals and practice. The need for those in recovery to learn sober life skills has been well documented by the National Institute on Drug Abuse and many research scientists. Carr posed the question to attendees, "What happens if your clients don't know how to learn?" He then pointed out that without specific, 'learnable' study skills taught up front, before other treatment, those in recovery will almost certainly be unable to apply the life lessons they were supposed to have learned while in rehab.
Over the course of 90 minutes, Carr provided a cheerful hands-on education in how to help those in recovery improve their focus on the present moment (gather their wits, as you might say), a preliminary step before studying anything. Real-life demonstrations brought this and other practical learning tools to life. Then Carr started addressing what L. Ron Hubbard named "the barriers to study." The Narconon program is based on the philosophy and works of Mr. Hubbard. From the mid-sixties forward, Hubbard dedicated much research to the problems of learning and how to help individual persons to overcome them.
"My colleagues at this conference seemed to have an immediate grasp of the cognitive dysfunction suffered by those arriving at rehab so they were truly interested in getting practical tools that could help," said Carr. "These principles I shared with them form the foundation of our rehabilitation program and have been integral to the program's success since its founding in 1966. I was delighted that they responded with such enthusiasm." Carr also praised Allan Berger, Ph.D, and Andrew Martin, the conference organizers, for its successful outcome. Carr is following up with individual counselors interested in further training in these techniques.
Lennox and Sternquist also provided insight into how the Narconon program monitors its post-program performance, using what it learns from its graduates for quality control and system improvements. The two scientists researched a standardized 'Routine Outcome Monitoring' of program graduates that has been validated in a peer-reviewed publication. They were at the conference to share this simple, do-able outcome monitoring methodology with all other rehab programs interested.
The long-term, inpatient Narconon rehab program is offered at dozens of locations around the world and is distinguished by its fully drug-free approach, preferring holistic methods of detoxification followed by in-depth life skills training. It was founded in 1966 by Arizona inmate William Benitez in collaboration with American author and humanitarian L. Ron Hubbard.
More information on the conference and its attendees and presentations can be found at http://www.theevolutionofaddictiontreatment.com/
For more information on the Narconon program, visit http://www.narconon.org or call 1-800-775-8750.