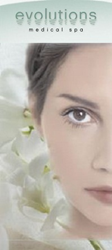 We have 6,000 square feet and 15 treatment rooms and can do everything from facials to Botox injections to skin resurfacing. In fact, this seems to be what the readers appreciate—a highly respected medical staff that can assist clients
SANTA BARBARA, CA (PRWEB) November 19, 2014
Evolutions Medical & Day Spa was named in the Santa Barbara Independent's "Best of 2014: Looking Good" list as best Medical Spa. This list highlights the best of beauty in the area and includes the Independent's choices for Santa Barbara's top hair salon, clothing boutique, barber shop and nail salon to name a few. Being named the best Medical Spa in Santa Barbara is very appreciated by the management and staff.
Managing partner Brian Perkins commented on their recognition saying: "It's not a one-size-fits-all business. We have 6,000 square feet and 15 treatment rooms and can do everything from facials to Botox injections to skin resurfacing. In fact, this seems to be what the readers appreciate—a highly respected medical staff that can assist clients with almost any cosmetic concern along with a wide array of technology to get the job done. We've made a big investment in equipment and took equal pains to have the right people working for clients."
Evolutions Medical Spa was founded in 2005 by Santa Barbara Cosmetic Surgeon Dr. Terry Perkins, who has 30 years of experience in aesthetics. He continues to be actively involved in the business and personally and extensively trains all of the nurses. In 2013, they moved to a larger location on Chapala Street and expanded to offer a full day spa offering massage, facials, and body treatments, thus adding the "Day Spa" in Evolutions Medical & Day Spa.
Evolutions Medical & Day Spa thanks the Santa Barbara Independent and their readers for the recognition. To see the full Best of 2014: Looking Good list, visit http://bit.ly/1t3nobW. To learn more about Evolutions Medical & Day spa in Santa Barbara, California, visit EvolutionsMedicalSpa.com.
About Evolutions Medical & Day Spa:
Evolutions Medical & Day Spa is focused on results, rejuvenation and relaxation. The spa offers the very best technology and innovative treatments for all skin types and a wide variety of concerns, including acne, wrinkles, sun damage, tattoo removal, and hair removal. Their medical spa offers Botox, Dysport, laser hair removal, chemical peels and more. Their full service day spa offers luxurious massages, facials, and body treatments. The staff is overseen and trained by owner and cosmetic surgeon Dr. Terry J. Perkins. Evolutions Medical and Day Spa serves Santa Barbara, Montecito, Goleta, Ventura, Oxnard and Santa Ynez. EvolutionsMedicalSpa.com or EvolutionsDaySpa.com.