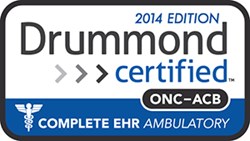 We understand the challenges EMR Companies are facing as they navigate the 2014 MU 2 process. We invite EMR Companies to partner with us so that we can help them to achieve Meaningful Use Stage 2.- Dr. Mark Freeman, CEO
Delray Beach, FL (PRWEB) February 18, 2014
Evolve Exchange, a South Florida based Health Technology Company, today announced that its AstralJet v4.1 EMR has been certified as a Complete Ambulatory 2014 Meaningful Use Stage 2 Certified EMR by Drummond Group. Evolve Exchange took their EMR through the process of certification to prove the quality, effectiveness, and strength of its core Medical Cloud infrastructure. Evolve Exchange's Medical Cloud Infrastructure is designed to enable Interoperability and empower EMR Companies to become Meaningful Use Stage 2 Certified by partnering with them.
"Achieving Meaningful Use Stage 2 Certification is a difficult undertaking, even for the most technically skilled EMR Companies," stated Mark Freeman MD, Evolve Exchange's CEO. "We understand the challenges EMR Companies are facing as they navigate the 2014 MU 2 process. We invite EMR Companies to partner with us so that we can help them to achieve MU 2."
Evolve Exchange has established partnerships with third party providers for e-Prescribing, e-Labs, PM Clearinghouse, Mini-PACS, Voice Command Navigation, CQM Submissions & AMC Calculations, Mobile App Functionality, and Health Vault Patient Portal. Their solution allows a client application to take advantage of their bleeding edge Cloud Infrastructure. Evolve Exchange's Network enables a gateway providing the mapping and coding needed to generate the signed C-CDA messages for compliance with the Interoperability Measures for Meaningful Use Stage 2 Certification.
About Evolve Exchange, Inc.
Evolve Exchange has developed a secure Medical Cloud Infrastructure that empowers EMR Companies to achieve MU 2. Our mission is to accelerate Interoperability between EMR Companies, Health Information Exchanges, and Third Party Medical Facilities through our powerful Medical Cloud Network Infrastructure. Evolve Exchange will provide you with the essential tools and services needed to achieve MU 2. For more information about Evolve Exchange visit them at HIMSS14, booth 8345 or contact: Seth Golbe, VP of Sales and Development, 888-218-9522 or sgolbe(at)evolvecloudexchange(dot)com.
About Drummond Group Inc.
Drummond Group Inc. is a global software test and certification lab that serves a wide range of vertical industries. In healthcare, Drummond Group tests and certifies Controlled Substance Ordering Systems (CSOS), Electronic Prescription of Controlled Substances (EPCS) software and processes, and Electronic Health Records (EHRs) – designating the trusted test lab as the only third-party certifier of all three initiatives designed to move the industry toward a digital future. Founded in 1999, and accredited for the Office of the National Coordinator HIT Certification Program as an Authorized Certification Body (ACB) and an Accredited Test Lab (ATL), Drummond Group continues to build upon its deep experience and expertise necessary to deliver reliable and cost-effective services. For more information, please visit http://www.drummondgroup.com or email DGI(at)drummondgroup(dot)com.
This Complete Ambulatory EHR is 2014 Edition compliant and has been certified by an ONC-ACB in accordance with the applicable certification criteria adopted by the Secretary of the U.S. Department of Health and Human Services. This certification does not represent an endorsement by the U.S. Department of Health and Human Services or guarantee the receipt of incentive payments.
Evolve Exchange, Inc.
AstralJet v4.1.
Date Certified: 2/13/14
Certification ID#: 02132014-2112-1
Modules Tested: 170.314(a)(1‐15); 170.314(b)(1‐5, 7) 170.314(c)(1‐3); 170.314(d)(1‐8); 170.314(e)(1‐3); 170.314(f)(1‐3); 170.314(g)(2‐4)
Clinical Quality Measures Tested: CMS068v3; CMS069v2; CMS122v2; CMS126v2; CMS138v2; CMS147v2; CMS154v2; CMS163v2; CMS165v2
Additional software used: DrFirst Rcopia, Microsoft HealthVault