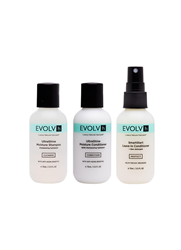 EVOLVh is a unique line of performance-oriented yet sulfate-free, silicone-free, phthalate-free, and paraben-free hair care products.
San Francisco, CA (PRWEB) August 26, 2015
Earlier this week, Ayla (aylabeauty.com), a San Francisco-based natural beauty boutique, expanded its portfolio of carefully curated non-toxic beauty products with the addition of EVOLVh, a new line of performance-oriented yet sulfate-free, silicone-free, phthalate-free, and paraben-free hair care products. Founded by Boris Oak and chemist Gary Smith, EVOLVh aims to help people look and feel great with hair products made from healthy ingredients that offer excellent performance — and simplify having beautiful hair.
EVOLVh products are made using 90% or more natural and organic substances. Its formulations contain unique blends of natural active ingredients not found in other hair products, including soy bran lipids and its own proprietary blend of 20 herbs in an aqueous base called "pHytoBlend," which produce visible results and a healthy, clean feel that set them apart from other brands in the natural and organic hair products category. "Ayla is delighted to offer the complete selection of EVOLVh hair care products to its customers," stated Dara Kennedy, founder of Ayla. "These natural and non-toxic products are high-performing and are designed to be flexible and multi-functional. In fact, the foundational products — the shampoo, conditioner, and leave-in spray — actually improve the condition of hair so that it's easier to style."
From the EVOLVh range, Ayla is carrying UltraShine Moisture Shampoo, UltraShine Moisture Conditioner, SuperFinish Polishing Balm, TotalControl Styling Crème, Ultimate Styling Lotion, UltraRepair Deep Conditioning Masque, SmartVolume Volumizing Leave-In Conditioner, and SmartStart Leave-In Conditioner & Detangler – ranging in prices from $24 to $48 for full size products. Three travel kits are also available: EVOLVh Haircare Starter Kits in Regular or Volumizing, and a Styling Starter Kit.
EVOLVh shoppers at Ayla and aylabeauty.com will also benefit from usage instructions and tips on each product page and personal guidance on demand from the Ayla Guides. Those interested in learning more about or purchasing EVOLVh products can visit the Ayla studio at 1825 Bush Street in San Francisco or online at http://www.aylabeauty.com.
About Ayla
Ayla is an online beauty retailer and San Francisco-based studio that offers consumers personal guidance for non-toxic beauty products that work. To ensure its customers get the best results, Ayla combines the best natural, organic, and non-toxic beauty products with expert recommendations and holistic beauty advice. Since 2011, aylabeauty.com has built a loyal following for its highly personalized and convenient experience. Ayla is a privately held company with headquarters in San Francisco, CA. For more information, visit aylabeauty.com.