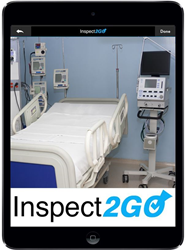 Inspect Rooms and Track Results in One Software Package.
Orange County, California (PRWEB) September 27, 2016
Inspect2GO now offers its inspection management solutions to medical facilities. Solutions include environmental program management, environmental services, occupational health and safety. The hospital's unique QA audit forms are imported into the system for patient rooms, exam rooms, laboratories and other areas. Inspections are performed on an iPad, Android tablet or smartphone (See Video).
Inspection results are sent to the hospital's in-house server or Inspect2GO's cloud database. Management runs reports on key performance indicators such as "deficiencies rank" or "inspections performed." Clients work directly with Inspect2GO to setup a tailored solution.
Environmental Services Software Capabilities

QA - Perform quality assurance audits and cleaning inspections
Checklists – Inspection forms and checklists are customizable to each hospital's process
Rooms – Inspect patient rooms, exam rooms, medical offices, etc.
Work Orders – Issue and track engineering and maintenance issues
Dashboard – Customize the web-based dashboard to each client's needs
Reporting – By room, hospital, building, EVS tech, deficiency, date, etc.
Scheduling – Schedule inspections and audits
Tracking – Data analytics and key performance indicator (KPI) tracking
APP – Inspect on iPad, other tablet or mobile device
Database – Host on-premises using customer's private server, or on Inspect2GO's cloud
About Inspect2GO
Inspect2GO, Inc., (http://inspect2go.com/evs) offers state-of-the-art inspection management software that combines mobile, cloud and database technology. Inspections are conducted on a mobile app. Inspection data is stored in the cloud, or on the customer's private server. The cloud-based inspection management software enables scheduling, ad-hoc reporting, data analytics, performance tracking and other management functions. The subscription based software is sold as a SAAS (software-as-a-service) product.