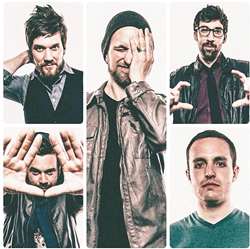 My Body Sings Electric are excited to have their music on Evver and embrace how Evver is promoting the independent music scene - Brandon Whalen
Boulder, CO (PRWEB) September 04, 2013
Evver, Inc. is a hot Colorado start-up allowing users to create and share custom videos complete with music from their uploaded photos – for free.
A key trait found with Evver's offering surrounds the growing independent music industry. Many artists today are bypassing traditional routes to stardom and are growing their popularity through the Internet. Evver hopes to help.
"My Body Sings Electric are excited to have their music on Evver and embrace how Evver is promoting the independent music scene" says lead singer Brandon Whalen. "They give us exposure to music lovers in a really unique way."
"Evver believes that people should hear great talent like My Body Sings Electric and hopes to serve the music community by promoting their songs in the Evver library. With their third CD (part 1: The Night Ends) coming in November, it is awesome to have local talent as amazing as My Body Sings", notes Kraig Clark, CEO of Evver.
Creating videos is as easy as signing in via Facebook, choosing a song and dragging and dropping one's favorite pictures. A few moments later, Evver's notification email indicates that the video is ready for viewing and sharing.
About Evver:
Evver is a leading video sharing service that allows users to upload their favorite pictures and create videos set to songs of their choice for sharing. Evver is located in Boulder, CO and serves people across the globe.
About My Body Sings Electric:
Since the late 2011, the Denver band has released two singles, Doctor and Oceancrest (including engineering and mixing from Jason Livermore), and has watched their shows grow larger and larger with continued success. Highlights include gigs on main stage at Westword Music Festival, and dates with The Flobots, 3OH!3 and The Chain Gang of 1974. They also self-booked two west coast tours and a trip to Austin for SXSW 2012.