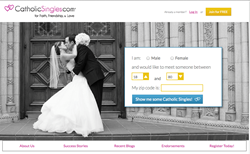 "A blood drive is a great way to give back to the community especially during the Christmas season", says David Nevarez, founder of CatholicSingles.com.
(PRWEB) December 09, 2014
This month Catholic singles are invited to share in the joy. CatholicSingles.com, the original online dating site for Catholic singles, prepares for the season and heads to Alabama as guests on EWTN Television's "At Home with Jim and Joy" airing December 11, 2014 2:00pm ET. They will join hosts Jim and Joy Pinto to discuss issues concerning single Catholics and the ways to cope being single during the holidays.
Also on December 13th from 11am – 5pm PT, CatholicSingles.com joins Providence Blood Donor Center for their first "What's Your Type?" Blood Drive and Christmas Party. Taking place at the Providence Saint Joseph Medical Center in Burbank, California, the event will include entertainment featuring appearances by Jennifer Naimo, the original Mary Delgado from the cast of "Jersey Boys" on Broadway; the hilarious Karen "Nooch" Egidio whose credits include The Tonight Show, Jimmy Kimmel Live, Hot Chic Comedy and more; Carl Kozlowski, Catholic comic, film critic, and writer along with comedy buddies Scott Vinci, Brian O'Sullivan and Kat Radley. In addition there will be Christmas Karaoke, tours of the Healing Gardens and Labyrinth by the Spiritual Care Team, giveaways, and Mary Kay Consultants will be on hand to help you look your best. Please go to CatholicSingles.com/whatsyourtype for more details, directions and to schedule blood donation times.
CatholicSingles.com has also been nominated for the 3rd year in a row as Best Niche Dating Site at the Annual iDate Awards to take place January 21, 2015 in Las Vegas.
Owned and operated by practicing Catholics, the mission of CatholicSingles.com is to provide a supportive environment for members to grow in their faith while on their journey to make new friends for fellowship and marriage. Founder, David Nevarez, and his wife Tricia, were just one of the many success stories and recently celebrated their 3rd wedding anniversary.