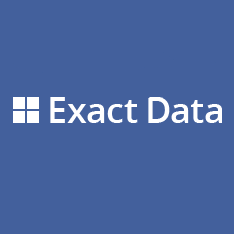 Part of being a large data housing company is exercising responsible information sharing and following ethical procedures. The security system we have in place is improved to meet the high traffic we experience on a daily basis
Chicago, IL (PRWEB) December 09, 2014
Exact Data creates extra security procedures to protect the data of individuals included in sensitive data cards. Certain data cards contain contact information for sensitive subjects such as people who may have ailments, those who are part of a highly classified organization such as police departments, individuals that purchase adult products or smoke cigarettes categorized by brand.
Such information is regarded as sensitive data and must be kept for businesses that are able to verify their nature of occupation. Verification begins with a piece of mail, email creative, or telephone script corresponding with information provided by the business. Strict guidelines are followed to confirm the nature of business and information is not offered under the company's free samples guide without proper verification is completed.
With email marketing outperforming its cohorts in the world of online shopping on Cyber Monday 2014, and other forms of direct marketing helping to make this holiday shopping year one of the most impressive in consumer history, the data firm pushed to increase its number of records in its email, postal, and phone databases. Last week, the company underwent a data update and grew its record size significantly in order to meet the demand for holiday mailing lists.
Increasing security follows last week's data growth for the company as privacy of recipients is being ignored by many companies eager for holiday business. As a priority for the company, privacy policies are enforced very strictly to avoid information being used by faulty parties. A newly added exit popup page intensifies the security, making sure that the data cards selected for purchase do not include sensitive data.
"Protecting our data is one of our highest priorities. Part of being a large data housing company is exercising responsible information sharing and following ethical procedures. The security system we have in place is improved to meet the high traffic we experience on a daily basis," says CEO Larry Organ.
To learn more about Exact Data's mailing lists and security procedures, visit the company's website at ExactData.com, call (877) 440-3282 or email the company at info(at)exactdata(dot)com.
About Exact Data
Exact Data is a Chicago-based multi-channel marketing company with regional offices across the United States. The company offers integrated marketing services including B2B and B2C lists containing postal, email, and telephone contacts, data append and hygiene services, as well as pay-per-click social media advertising.
Exact Data was founded in 2001 and operates as a subsidiary of Exact Data LLC. For more information, email [email protected] or call (877) 440-3282.