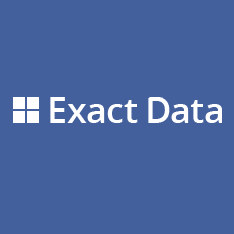 Many businesses utilize SIC Codes for targeting purposes. It is necessary to keep our B2B records as up-to-date as possible, specifically SIC Codes, to ensure a sufficient amount of contacts for clients to choose from
Chicago, IL (PRWEB) October 24, 2014
Exact Data increases the number of records within its SIC Code Lookup tool to expand selection. Each month, the data broker performs updates to its database to add more records for clients to choose from when segmenting mailing lists. The larger the number of records, the more specifically a client can segment its audience.
The company's SIC Code Lookup tool allows businesses to search for specific industries. SIC Codes, which stands for Standard Industrial Classification Codes, categorizes industries using a four-digit code to identify the type of business executed by a particular establishment. The SIC Code Lookup tool is primarily used for B2B targeting.
Examples of SIC Codes included in the lookup tool include:
-Insurance Carriers
-Miscellaneous Retail
-Business Services
"Many businesses utilize SIC Codes for targeting purposes. It is necessary to keep our B2B records as up-to-date as possible, specifically SIC Codes, to ensure a sufficient amount of contacts for clients to choose from," says CEO Larry Organ.
Exact Data offers various mailing lists for all records categorized by SIC Code. Campaigns can be launched via email marketing, telemarketing or direct mail.
To learn more about the company, call (877) 440-3282 or email Exact Data at info(at)exactdata(dot)com.
About Exact Data
Exact Data is a Chicago-based multi-channel marketing company with regional offices across the United States. The company offers integrated marketing services including B2B and B2C lists containing postal, email, and telephone contacts, data append and hygiene services, as well as pay-per-click social media advertising.
Exact Data was founded in 2001 and operates as a subsidiary of Exact Data LLC. For more information, email info(at)exactdata(dot)com or call (877) 440-3282.