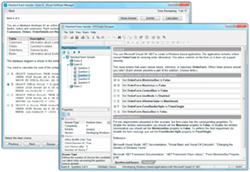 the application for professional exam preparation and certification tests emulation.
Chicago, IL (PRWEB) October 22, 2013
Visual CertExam Suite continues to expand the boundaries of its popularity. The latest update makes this application accessible for France thanks to full French localization. In addition to English, German and Russian, French is one of the most widely spoken languages in the world. This makes Visual CertExam Suite available for many people all across the world.
In addition to those minor and major changes to the software, VCE team continues to support examcollection - the free VCE files repository which can be used by any owner of Visual CertExam Suite. After all the questions for exam have been created and organized, user can upload the corresponding VCE files to this site. Any other visitor is able to download VCE file for free and import into his own Visual CertExam Suite instance for daily practice. Dozens of new exams are uploaded every day and it has become a most complete exam collection of professional certification tests on the Internet. At the moment, practically any version and variation of any known IT-specific test or exam can be downloaded from VCE Files Repository.
The next major change in the latest release is the auto save feature during VCE exam file editing. It makes user experience more comfortable, allowing not to worry about losing questions or any other parts of the exam in case of unexpected technical issues.
Also, the development team has fixed several major and minor bugs in question selection and scoring after the training. New Visual CertExam Suite version is more stable (startup error under Windows XP has been fixed as well), better optimized and debugged.
Due to popular demand, VCE team has also released several mobile versions of the application. Now, in addition to Windows and MacOS platforms (which were supported already) Visual CertExam Players work under Android, iOS and Windows Phone. All those versions are compatible with .VCE files format and can be used for regular practice on any device.
New Visual CertExam Suite version and mobile applications can be downloaded from Google Play, Apple Store and Win Store. In addition, VCE team provides free evaluation version on demand for those willing to make a review. Please contact if interested: http://www.certexamdownload.com/