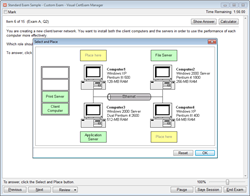 Sacramento, CA (PRWEB) December 22, 2013
The best way to prepare for an exam is to simulate it. If the exam includes questions with multiple answer choices, you need to practice, as much as possible, with questions of this type. Visual CertExam Suite gives you the possibility of creating exams, with various types of questions. Everyone now may create questions that require selecting one of multiple answers, filling in a blank, clicking a certain area of an image and more. Instead of wasting time, by typing questions, answers and adjusting the alignment of the text, this application helps users with most of the work.
Visual CertExam Suite provides an excellent solution for those who need to prepare for a certification exam. Thanks to its user friendly interface and easy to understand functions, everyone can focus on the exam practicing. VCE files repository provides the download of up to 100000 different exam files for Cisco, Microsoft, Oracle, Juniper and other tests.
Visual SertExam software lets user take the exams as well, on a separate interface, which can be launched with a different executable. [ Exam Collection ] The created exam sets are displayed in a list. There are various ways of taking an exam. After selecting a set, the program allows to choose an individual exam, taking questions from certain sections, taking a set number of questions or a specific range or taking the questions that were answered incorrectly. It is also possible to activate a timer and set it to expire after a certain number of minutes. At the end, the software displays your score, as well as the required score and it tells user if they passed or failed.
Visual CertExam Suite's installation file is almost 8 MB large. Besides providing a destination path and specifying what shortcuts it should create, the user will not have to make any other configurations. Suite can be installed on Windows XP, Vista, Windows 7 and Win 8, application don't need special high system requirements.
Download Visual CertExam Suite free here.