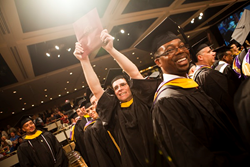 Nearly 1,600 of this year's Excelsior College graduates are members of the U.S. military and 34 percent are from minority groups.
Albany, N.Y. (PRWEB) July 07, 2014
Graduates and their families will come together in Albany, New York this Friday, July 11 at 3 p.m. EST to celebrate Excelsior College's 2014 Commencement. More than 300 of the graduating class of 4,693 are expected to attend the ceremony at the Empire State Plaza Convention Center. Jamie P. Merisotis, president and CEO of Lumina Foundation, the nation's largest private foundation committed solely to enrolling and graduating more students from college, will offer the keynote address.
Typical Excelsior graduates are working adults, average age 37 years old, balancing jobs, family and college coursework, while seeking to improve their lives and advance in their careers. This year's graduates come from all 50 states, the District of Columbia, U.S. territories, and 19 other nations. They earned their degrees through online coursework, credit by examination, transferring credit from other institutions, and recognized non-collegiate sources. Approximately 1,600 graduates are members of the U.S. military and 34 percent are from minority groups.
In total, more than 1,700 degrees were conferred at the associate level, 2,600 at the bachelor's and nearly 300 at the master's level. Fifty nine students earned more than one degree during the past academic year and the oldest graduate is 69 years old.
Listen to the Commencement Stories episode of the Excelsior Life Distance EDU on Demand podcast.
While each graduate leaves Excelsior with a degree, their personal journey to Commencement is unique.
Anna Truss fled her troubled home country of Turkmenistan for Turkey in 2004 in search of academic freedom, eventually making her way to the U.S. via a student-exchange program. Passionate about math and science, the Seattle, Washington resident taught herself web development, graduated from a community college, and enrolled in Excelsior's Bachelor of Science in Information Technology program, concentrating in cybersecurity. In August 2013, Truss followed the path of so many immigrants before her and started her own business, DefSec Solutions, LLC, a digital forensics firm, with three former classmates. In addition to running a successful – and growing – company, she's now pursuing a Master of Science in Cybersecurity from Excelsior.
Other notable 2014 graduates who embody the spirit of lifelong learning – and who will be in attendance at this year's ceremony – include:

Rosa Pena-Roberts, a young mother and immigrant from the Dominican Republic, who through the help of a college partner and the use of Prior Learning Assessment (PLA), was able to earn an MBA.
Thomas Drake, a U.S. Navy veteran, detective, and 17-year law enforcement veteran, who returned to school for a Bachelor of Science in Criminal Justice to advance in his career and serve as a role model to his young children.
Laurie Herrera, a grandmother and LPN who earned a Bachelor of Science in Health Sciences 25 years after taking her first class at Excelsior.
Lisa Miller, who overcame numerous obstacles, including family and personal health problems, to earn a Bachelor of Science in Liberal Arts.
Nancee Berling, a veteran who successfully balanced work, school, family, and a disability, to earn a Bachelor of Science in nursing degree, Summa Cum Laude.
Visit Excelsior Life to read about the inspiring educational journeys of Rosa, Thomas, Laurie and other 2014 graduates.
For those graduates and family members unable to attend the ceremony in person, Excelsior will publicly broadcast the Commencement live on the Web and live-tweet the event at #ExcelsiorGrad2014.
Each of the above graduates is available for interview requests.
Excelsior
Excelsior College http://www.excelsior.edu is a regionally accredited, nonprofit distance learning institution that focuses on removing obstacles to the educational goals of adult learners. Founded in 1971 and located in Albany, NY, Excelsior is a proven leader in the assessment and validation of student knowledge. It offers more efficient and affordable access to degree completion through multiple avenues: its own online courses and college-level proficiency examinations, and the acceptance in transfer of credit from other colleges and universities as well as recognized corporate and military training programs. Excelsior College is accredited by the Middle States Commission on Higher Education.